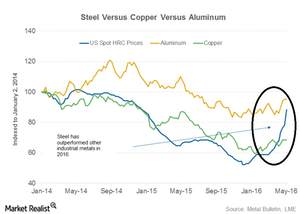 Thanks to Trade Actions, Steel Has Outperformed Other Metals
US steel imports
The US steel industry has been plagued by cheap imports from countries like China and Korea for quite some time now. Last year, US steel prices fell to levels unseen even during the height of the 2008–2009 financial crisis. This was despite decent end-user demand. The energy sector's steel demand has tanked, but construction and the automotive sector have been growing at a fairly good pace.
Steel and some steelmaking raw materials had the dubious distinction of breaching 2009 lows. Notably, other industrial metals like copper and aluminum managed to hold on to their 2009 lows despite all the sell-offs in the commodity space.
Article continues below advertisement
To be sure, the decline in steel prices was not exactly without reason. As China, the largest steel consumer, has reached its peak demand, we are left with a massive production overcapacity. And, unfortunately, a large part of that overcapacity was finding its way into the US markets (DIA). The US is the largest steel importer.
Trade actions
As imported steel products flooded the US, steel companies including U.S. Steel (X), ArcelorMittal (MT), AK Steel (AKS), and Steel Dynamics (STLD) petitioned authorities to clamp down on steel imports. Steel companies managed to win three key trade cases for flat-rolled steel products. Because of these duties, flat steel prices have risen more than 60% year-to-date, making steel one of the best-performing industrial metals, as can be seen in the graph above.
Falling imports have been a key driver of steel's upward price action. Thus, it's important for steel investors to follow the monthly steel imports data releases, as they serve as a virtual health check of the US steel industry. In this series, we'll do a detailed analysis of April steel imports and analyze what these figures mean for the sector.