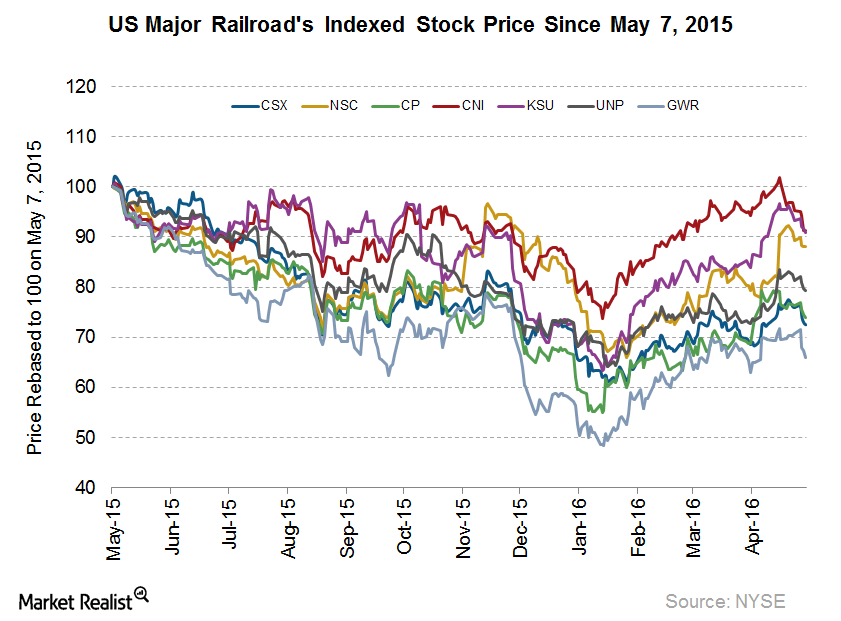 How Did Major US Railroads Fare in 1Q16?
US railroads' earnings in 1Q16
The last day of April marked the end of the 1Q16 earnings season for all major US railroads. As of that date, all publicly traded US Class I railroads and the United States' largest short-line operator, Genesee & Wyoming (GWR), reported their quarterly earnings. A railroad's health is a true mirror of a country's economic activities, especially the tangible economy. Now, it's time to see which railroad fared better than its counterparts on business and financial grounds.
Article continues below advertisement
Stock price movement
In the past year, rail stocks have fared poorly. The slowdown in global economic activity largely impacted exports and imports in the US. This has been one of the major reasons behind the decline in rail stocks. Also, a sharp decline in coal volumes combined with a burst of the crude-by-rail story detailed railroads' top line growth.
Beginning in February 2016, rail stocks saw some light at the end of the tunnel. This light was in the form of anticipated stability in commodity prices and a pickup in the worldwide economy. It's interesting to see how long the forward momentum continues for the rail shares.
We'll take a quick look at the returns of all these railroads since the beginning of 2016. Kansas City Southern, the United States' smallest Class I railroad in terms of revenue and volume, delivered the highest returns of 25.4% to investors. Its competitor in the southeastern US is Union Pacific (UNP). It fetched 9.2% for investors.
Major eastern US rail carrier CSX (CSX) was ranked the lowest in the peer group in terms of returns to investors. The stock returned 1% during the same period. Norfolk Southern (NSC) competes with CSX. It delivered a return of 5.7% to Market participants.
During the same timeframe, Canada's largest freight railway, Canadian National Railway (CNI), returned 5.2%. Its rival in Canada is Canadian Pacific Railway (CP). It delivered 9% returns to investors. Genesee & Wyoming accomplished gains of 13.4% for investors.
Railroads are included in the transportation and logistics sector. It forms part of the industrial sector. Since January 1, 2016, the iShares Dow Jones Transportation Average ETF (IYT) rose by 2.6%. Another major industrial ETF is the iShares Dow Jones US Industrial ETF (IYJ). It rose by 4.2%.
Series overview          
In this series, we'll go through the railroads' revenues and main common business verticals in 1Q16. We'll also cover the growth plans along with certain major financial aspects that investors shouldn't miss. In the end, we'll try to gauge analysts' perceptions towards them and review their valuation due to weak railroad industry fundamentals.