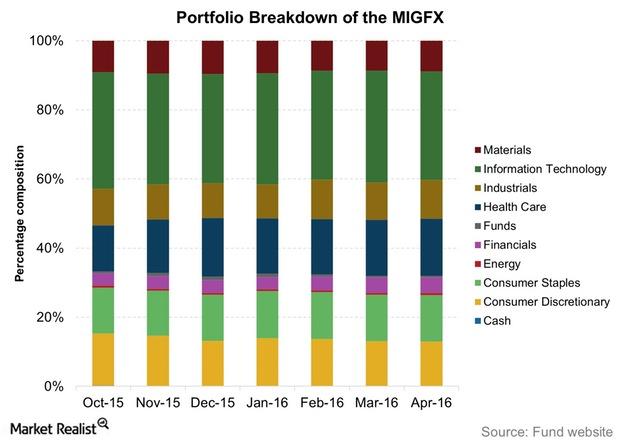 A Look at MIGFX's Portfolio Changes
By David Ashworth

May. 31 2016, Published 3:35 p.m. ET
MIGFX overview
The MFS Massachusetts Investors Growth Stock Fund Class A (MIGFX) invests at least 80% of its assets in common and preferred stocks, convertible securities, and depositary receipts. Though the fund can invest in companies across market capitalizations, it focuses on large-cap companies.
The fund's manager adopts the bottom-up investment approach when selecting stocks for the portfolio. He looks for "high-quality companies that have durable franchises with competitive advantages and that produce above-average sustainable growth."
Monsanto Company (MON), Texas Instruments (TXN), Ecolab (ECL), Mead Johnson Nutrition Company (MJN), and W.W. Grainger (GWW) were among the fund's 64 holdings as of April 2016's end. As of April, the fund was managing assets worth $6.7 billion.
Article continues below advertisement
Portfolio changes in MIGFX
For this analysis, we will be considering holdings as of March 2016, as that's the most recent available sectoral breakdown. The fund's holdings after March reflect valuation-driven changes to its portfolio, not its actual holdings.
Information technology and healthcare are the two biggest sectors in which MIGFX invests. They're followed by the consumer staples and consumer discretionary sectors, in that order. Industrials is the only other sector that forms over 10% of the fund's assets. MIGFX isn't invested in the telecommunications services or utilities sectors.
Among the consumer-oriented sectors, the fund manager's focus has shifted from discretionary to staples, the opposite of what the situation was a year ago. The financials, materials, and healthcare sectors have seen increased investment, and the industrials and energy sectors have seen decreased investment.
An appreciable aspect of the fund is its low portfolio turnover. This means that the fund's manager has stuck with most of his stock picks, showing his confidence in them.
How has the fund's portfolio positioning impacted its returns YTD in 2016? Let's take a look in the next article.