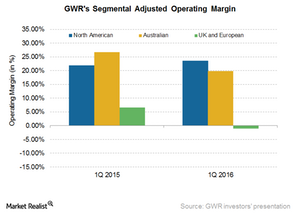 GWR Revised Its 2016 Outlook, Reduced Operating Margin Outlook
By Samuel Prince

May. 3 2016, Published 4:02 p.m. ET
GWR's operating margin in 1Q16
Genesee & Wyoming (GWR) reported an operating profit of $57.0 million in 1Q16. This translates into an operating margin of 11.8% on revenue of $482.6 million.
When compared to its own guidance of a 16% operating margin for the same quarter, GWR has missed by 4.2%.
Article continues below advertisement
North American operating margins
In 1Q16, GWR's North American operations reported a total operating profit of $70.0 million compared to $57.1 million in 1Q15. However, its adjusted operating income rose by 1.9% on a same-railroad operations basis in the reported quarter.
Lower carloads impacted GWR's North American operating margins. The company has undertaken a margin improvement program that includes:
removing locomotives from service
headcount reductions
general and administrative expense cuts
Australian operations margins
In 1Q16, GWR's adjusted operating income from Australia fell by 36% to $10.2 million compared to 1Q15. This was primarily due to weakness in the mining sector. In addition, the company accounted for a notional loss of $6.0 million worth of operating income from lower iron ore and manganese shipments.
The Freightliner Group's operations carry lower margins, which have been added to GWR's existing margins. This has created downward pressure on the company's margins. To offset this, GWR has undertaken cost reduction initiatives in Australia.
Since GWR acquired Freightliner Group on March 25, 2016, a comparison of operating margins between 1Q16 and 1Q15 won't be meaningful.
Article continues below advertisement
Management's outlook
GWR expects its North American operating income to fall by 2% year-over-year. This segment contributes 80% to the company's operating income. In Australia, the company projects operating income to fall further by $10.0 million compared to its original guidance in February 2016. There, it foresees the negative impact of the loss of fixed payments from Southern Iron.
The Australia and UK and Europe segments contribute 10% each to GWR's operating income. In the United Kingdom and Europe, GWR believes that operating income will remain flat year-over-year.
Weaker currency and the impact of coal's fall is expected to offset cost savings in the second half of 2016. Since iron ore and manganese prices have risen 50% since the beginning of 2016, Australian operating margins could improve, given the cost initiatives that were undertaken there.
In 2Q16, GWR expects ~23%, 17%, and 4% in operating margins from its North American, Australian and, and UK and European operations, respectively. For 2016, on a consolidated basis, it has revised its operating margin guidance from 19% to 18% as of April.
Peers' operating margins
In the current industry fundamentals, all Class I railroad companies are taking efforts to reduce costs and improve margins. Let's go through GWR's peers' operating margins for fiscal 2015:
All the peer companies mentioned above excluding GWR are included in the portfolio holdings of the SPDR S&P Transportation ETF (XTN).
In the next article, we'll look into what analysts are recommending to investors for Genesee & Wyoming.