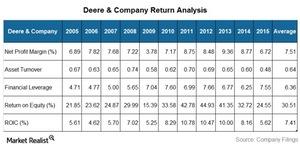 Deere: The World's Largest Agriculture Machinery Company
By Shannon Black

May. 12 2016, Published 3:24 p.m. ET
Company overview
Deere & Company (DE) has a market capitalization of ~$25 billion. It's the world's largest maker of farm (DBA) equipment, and it also manufactures machinery for construction (XHB), forestry, and residential lawn care.
Synonymous with high quality, the company's machinery evokes strong brand loyalty among its consumers. Deere was listed 70th on Forbes' list of Most Valuable Brands in 2015.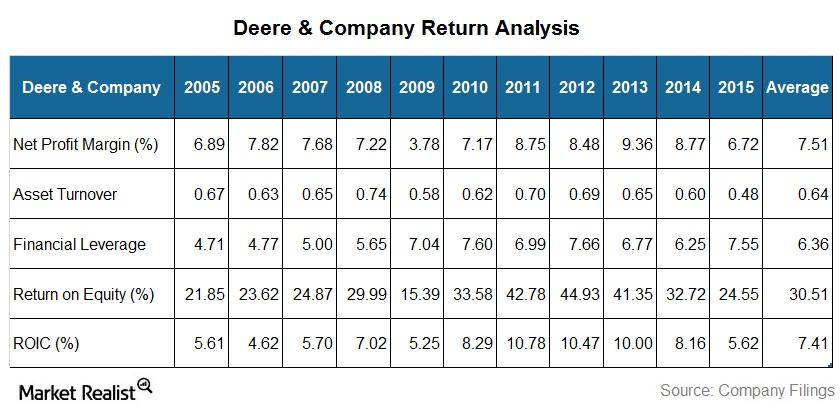 Article continues below advertisement
Deere's brand value
Deere is ranked 83rd in Interbrand's 2015 listing of the 100 best global brands. Interbrand is a brand consultancy subsidiary of Omnicom (OMC). It uses an ISO-certified (International Organization for Standardization) method to arrive at brand valuation by analyzing the way a brand benefits the organization.
Deere was assessed to have a brand value of $5.2 billion, slightly above the $5.1 billion brand values of both Chevrolet and Land Rover. Chevrolet and Land Rover are owned by General Motors (GM) and Tata Motors, respectively.
DE's returns over the years
As you can see in the above chart, Deere has seen some impressive returns over the years. It has a mean annual return on equity (or ROE) of 30.5% for the ten-year period between 2005 and 2015. ROE can be distorted by excessive leverage taking, and cursory inspection does suggest a case of high leverage here.
ROE = (profit margin) * (financial leverage) * (asset turnover)
In 2015, Deere's financial leverage, or debt to equity, rose 60% over its 2005 levels and 8% over its 2011 levels. However, Deere's ROE in 2015 was ~3% points higher than its 2005 levels and ~18% lower than its 2011 levels.
While Deere's ROE is enhanced by high leverage, the volatility in its ROE is closely linked with the volatility in its net profit margins. Deere's net profit margins have fluctuated widely between 3.8% and 9.4%, suggesting that its business is highly cyclical.
As we analyze the business throughout this series, we'll find that its business is indeed cyclical.