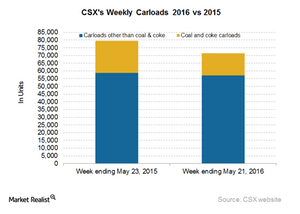 The Story behind the Slide in CSX's Carloads
CSX's carloads
CSX Corporation (CSX) is a major operator in the eastern United States. Along with Norfolk Southern (NSC), the company is a virtual duopoly in that region. In the week ending May 21, 2016, CSX's railcars excluding coal and coke declined by 2.6% YoY (year-over-year)—almost on par with NSC.
Overall, CSX hauled 71,000 plus railcars in the reported week of 2016, as compared to 79,000 railcars in the week ending May 23, 2015. We should note that CSX's 10% fall in total railcars was on par with the 11% decline in railcar traffic among all US railroads.
Article continues below advertisement
Why coal carloads matter
CSX's coal plus coke railcars declined by 31% in the week ending May 21, 2016, higher than rival NSC's 24% decline in coal traffic in the same week. Coal accounted for 16% of CSX's total volumes and 19% of its total revenues in 2015.
According to US Energy Information Administration, the Appalachia region's coal output is expected to decline by 9% in 2016. The agency expects total coal production to increase by 2% and to stabilize in 2017. CSX mainly connects coal mining operations in the Appalachian region.
The eastern railroads have cited the shift from coal to natural gas (UNG) in electricity generation plants as one of the reasons for the fall in utility coal transportation. And the current coal tsunami has affected major coal producers in the US, such as Alliance Resource Partners (ARLP), CONSOL Energy (CNX), and Peabody Energy (BTU). Due to the sharp decline coal prices, Peabody filed for Chapter 11 bankruptcy protection in the US on April 13.
Bulls and bears
Commodities that posted major gains for CSX in the week ending May 21, 2016, included the following:
chemicals
lumber and wood products
crushed stone, sand, and gravel
waste and nonferrous scrap
The main bear commodity groups were farm products excluding grain, petroleum and petroleum products, metallic ores, primary metal products, and pulp and paper products.
We'll analyze CSX's intermodal traffic in the next part.