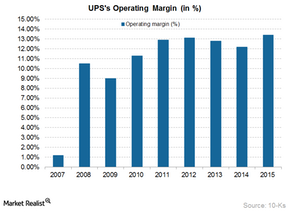 Why UPS's Operating Margins Are Better than Its Peers
By Samuel Prince

Updated
Operating margins
In the previous part, we discussed ORION, United Parcel Service's operating efficiency improvement technology. In this part, we'll go through UPS's operating margins and compare them with the other industry players.
Investors are usually interested in knowing operating margins since they provide a mirror for earnings improvement. The operating margin is operating profit that is derived after deducting all direct expenses associated with generating revenues.
Article continues below advertisement
Operating margin considerations
By looking at the above graph, we can note that there is a significant jump in operating margins from 2007 to 2008. This was primarily due to a reduction in compensation expenses by ~$5.6 billion in 2008. UPS decided to reduce pension expenses in its multiemployer pension plans in effect from 2008. In connection with this reduction, the company incurred a one-time charge of $6.1 billion in 2007 to withdraw from the Central States Pension Fund.
Despite an ~13% increase in compensation expenses since 2011, UPS was able to maintain its operating margin in the range of 12%–13%.
Fuel also plays an important role in the overall operating expenses of any logistics company, including UPS. UPS's fuel expenses have been reduced by almost 40% in 2015 from the average levels in 2011–2013. Plus, UPS maintains a fleet of 6,845 alternative fuel vehicles that constitute almost 6.5% of its total fleet of package cars. This also helps to put a curb on overall fuel costs.
Peer group margins
To find out where United Parcel Service stands in terms of operating margins, we'll do a comparison of the company with its peers from 2007 to 2015. UPS's average operating margin during the period was 10.71%. Its close competitor FedEx (FDX) was at 7.63%.
The other competitor in the LTL (less-than-truckload) sector, XPO Logistics (XPO), was at just 1.19%. Another major LTL player, Old Dominion Freight Line (ODFL), was at 11.7%. With a nearly universal presence in the trucking space, J.B. Hunt Transport (JBHT) was at 9.9%.
Along with trucking, airlines and railroads are included in the transportation and logistics sector. Major airlines and railroads make up 12.6% and 7.3%, respectively, of the portfolio holdings of the Industrial Select Sector SPDR ETF (XLI).
Clearly, UPS has an edge over its rivals. In the coming part, we'll assess UPS's capital expenditure pattern.