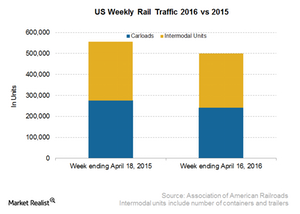 North American Freight Traffic Down, Mexican Intermodal Up
By Samuel Prince

Updated
US weekly railcar traffic
Every Wednesday morning, the AAR (Association of American Railroads) releases the weekly rail traffic data for the previous week. The latest report is for the week ended April 16, 2016. In this week, total US railcars fell to just above 240,000, reflecting a fall of ~13% from 276,000 units in the week ended April 18, 2015.
In the reported week, US intermodal traffic fell by 7.4% to 259,000 units from 280,000 units during the same period in 2015.
Article continues below advertisement
Canadian and Mexican rail traffic
In the latest reported week, Canadian rail traffic recorded a fall in both railcars and intermodal. These railroads reported a fall of 13.7% in railcars in the week ended April 16, 2016, compared to the corresponding period in 2015. Canadian freight rail carriers recorded a fall of 4.8% in intermodal traffic in the latest reported week of 2016 compared to the corresponding week last year.
Mexican railroads offered a mixed bag for rail traffic growth. Though their railcar volumes fell by 5.6%, their intermodal traffic rose slightly by 0.2% in the reported week. The upside in Mexican intermodal volumes compared to the fall in US and Canadian intermodal traffic is noteworthy.
Five out of ten carload commodity groups posted volume growth in the week ended April 16, 2016. These are miscellaneous railcars, grain, and chemicals. A major weekly backbencher was coal, which fell ~36.5%, followed by petroleum products and forest products.
North American freight traffic 
There are 13 railroads that submit this weekly data. These rail companies include BNSF Railway (BRK-B), Union Pacific (UNP), Norfolk Southern (NSC), CSX Corporation (CSX), Kansas City Southern, Canadian Pacific Railway (CP), and Canadian National Railway (CNI). These carriers handle about 95% of total US and Canadian freight traffic. Class I railroads account for the lion's share of freight rail movement.
Investors interested in dividends ETFs can opt for the Vanguard Dividend Appreciation ETF (VIG). All US Class I railroads are part of the portfolio holdings of VIG.
For more information on last week's rail traffic, visit Market Realist's Week Ended April 9: North American Rail Traffic, Intermodal Slump. In this series, we'll take a look into all US Class I railroad's rail traffic for the week ended April 16, 2016.