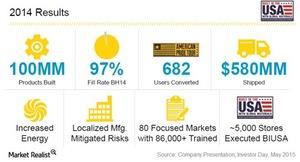 What Makes Stanley Black & Decker a Trusted Brand?
By Shannon Black

Apr. 5 2016, Updated 9:07 a.m. ET
Made in the USA, built in the USA
The United States tool market offers the best possible margins among all regional markets of the world. On top of being the market leader in the US, Stanley Black & Decker (SWK) outlines several strategies to further consolidate its share in this lucrative market. A key component of this strategy is publicizing its local manufacturing strategy. The company has launched several campaigns to capitalize on sentiments against the outsourcing of local manufacturing among industrial (XLI) and automotive (FSAVX) companies. These include the American Pride Tour in 13 markets within the US and inviting customers to manufacture Dewalt drills within its factories.
Article continues below advertisement
Since this campaign has to be preceded by setting an example, the company has localized 40% of its power tool manufacturing in the US. In percentage terms, this is six to seven times larger than other competitors in the market. Customers equate the "Made in the US" tag with quality and trust, enabling the company to sell tools at a premium. The accretion of higher margins makes the proposition of localization possible despite being expensive.
Tools segment margins among US-based companies
The Global Tools & Storage segment is not only the largest but also one with high margins in Stanley Black & Decker (SWK). Segment profit margins grew by 220 basis points in two years from 14.2% in 2013 to 16.4% in 2015. The increase in margins was due to higher volumes and realized prices on the revenue side and benefits from productivity enhancements on the cost side. The margin figures were comparable to US-based toolmakers such as Snap-on Tools Group (SNA), which increased its margins from 14.3% in 2013 to 16.3% in 2015.
Tools segment margins among other international players
However, margins were far lower for competitors with high exposure to price-sensitive emerging markets. The Japan-based multinational conglomerate Hitachi (HTHIY) had a margin of 5.1% in the social infrastructure segment, which sells power tools. Hilti, a Liechtenstein-based power tool maker, had margins ranging from 9.5% in 2013 to 12.4% in 2015. Hilti is majorly a European market player and derives 48% of its sales from Europe and 24% from North America. Regional markets become more price sensitive as they shift from North America to Asia. Margins decline accordingly as well.