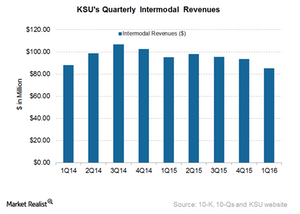 Why Did Kansas City Southern's Intermodal Revenues Fall in 1Q16?
Intermodal revenues
In the last part, we explored Kansas City Southern's (KSU) Energy segment's freight revenues. Here, we'll go through the contribution of the company's Intermodal revenues. KSU's intermodal revenues in the first quarter of 2016 fell to $85.1 million from $95.0 million in 1Q15. This represents a fall of 10% on a year-over-year basis.
Article continues below advertisement
Intermodal volumes
The company's Intermodal Containers and Trailers fell by 7% in the first quarter of 2016, compared with the corresponding period last year. The March floods in Louisiana and Texas mainly impacted KSU's intermodal volumes. Plus, this segment's volume was also negatively impacted by retooling and shutdowns in many automotive assembly plants.
Extremely competitive pricing from the trucking companies, resulting from lower fuel costs, negatively impacted KSU's Intermodal revenues. The difference in holiday timing in China and North America also unfavorably impacted the Intermodal segment's volumes in 1Q16.
The industry's intermodal freight sector includes hauling cargo containers or truck trailers on behalf of steamship lines and motor carriers. Kansas City Southern serves the US and Mexican markets and cross-border traffic between Mexico and the US. The company has a sizable presence in the Port of Lázaro Cárdenas, the busiest port in Mexico. The port serves as a catalyst for trade between Asia and North America.
Article continues below advertisement
Outlook
Kansas City Southern expects its Intermodal segment to be back in shape after the completion of retooling in plants served by the company in May. The company plans to add more intermodal and automotive equipment in the near future to catch up with growth prospects there.
KSU has invested in the APM-Maersk terminal in Lázaro Cárdenas, which should double the Port of Lázaro Cárdenas' capacity in the second half of 2016. KSU has also planned an intermodal facility to improve capacity in San Luis Potosi, Mexico, sensing some commercial opportunities in that area.
Coal revenues have impacted railroads' recent operations. Intermodal was looked upon as a growth area to fill the hole left by the coal business. But, is it? Kansas City Southern (KSU) witnessed a 4% fall in its Intermodal business in 2015 over the previous year. KSU's close competitor Union Pacific (UNP) reported a 9% drop for fiscal 2015. For rest of KSU's peer group follows:
Investors interested in the railroad space can consider the iShares US Industrials ETF (IYJ). This ETF holds 5.0% in all Class I railroads.
In next part of the series, we will quickly go through KSU's operating performance in the wake of soft railroad industry fundamentals.