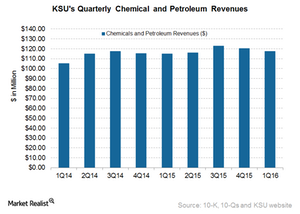 Kansas City Southern: Chemicals and Petroleum Shine in 1Q16
Chemical's share in revenues
In the previous part, we discussed the Industrial and Consumer Freight segment revenues and its prospects. Here, we'll analyze Kansas City Southern's (KSU) Chemicals and Petroleum division. KSU's chemical revenues in 1Q16 were $117.3 million, up by 2% on a year-over-year basis.
Article continues below advertisement
Chemical volumes
The chemical carloads went up by 3% in the first quarter of 2016, compared with the corresponding period last year. Despite the floods in Texas and the Southeastern US, this freight source recorded a favorable contribution in 1Q16. The strength in the company's Petroleum and Plastic business offset the fall in volumes due to the floods.
Chemicals include plastics, industrial chemicals, and petroleum refined products. KSU transports these products to the Midwest, Southeast, and Northeast US markets. It also transports these products throughout Mexico through interchanges with other railroads.
Management outlook
Kansas City Southern has planned to build an SIT (storage-in-transit) yard near the Sasol Chemicals LLC's facility in Louisiana. The company has entered into an agreement with Sasol to construct and initiate a long-term lease of an SIT rail yard. This should support the latter's new ethane cracker and derivatives project in Lake Charles, Louisiana.
KSU further expects the SIT yard to bring other chemical plants' business in KSU's domain. The reforms in the Mexican energy markets are expected to be operational in 2017. KSU anticipates higher volumes of petroleum refined products and specialty chemicals from the US Gulf Coast moving into Mexico. Over the next few years, the company foresees gains in the growth in plastics production centered in Gulf region.
Uncertainties in revenue growth have impacted railroads' capital spending in recent years. Kansas City Southern (KSU) recorded a 3% rise in capital expenditures in 2015. KSU's close competitor, Union Pacific (UNP), registered a 7% growth in the same period. The revenue growth for the rest of the peer group follows:
Investors opting for broad-based exposure to the transportation sector can invest in the SPDR S&P Transportation ETF (XTN). This ETF holds 12.8% in all US-originated Class I railroads.
In the next part of this series, we will consider the reasons behind the rise in agriculture and minerals revenues in 1Q16.