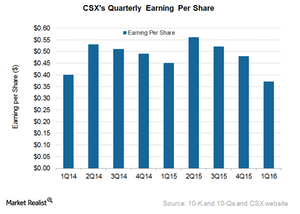 What Is CSX's 2016 Outlook?
CSX's 2016 outlook
In the first quarter of 2016, CSX (CSX) saw a 5% decline in overall volumes. The management anticipates a marginal decline in volumes and overall earnings for 2016 compared to 2015. CSX expects a well-balanced portfolio with many growth markets offset by challenging near-term market dynamics.
Article continues below advertisement
Business outlook
CSX foresees lower volumes in the current year. The company expects headwinds in coal, energy, and metals volume to dominate the higher volume growth markets in the current year. Its volumes were also impacted by operational issues with a few terminals served by CSX.
The capacity utilization of US steel producers fell below 70%. Though it's slowly picking up the pace, the company anticipates unfavorable metals volume in 2016. Metals volumes are also expected to be affected by excess supply through imports resulting from a strong US dollar.
CSX expects neutral agricultural shipments. This is mainly due to the higher domestic grain shipments being offset by a weaker ethanol market resulting from higher inventory levels. It also projects a neutral intermodal performance mainly due to strategic network investments to support highway-to-rail conversions and growth with its existing customers. However, the company expects international intermodal to lose ground on account of a strong US dollar and tough competition.
Article continues below advertisement
CSX believes its automotive volumes will thrive in 2016, as a result of strong North American light vehicle production. However, chemical shipments are expected to decline due to lower drilling activity, which is an implication of the continued low commodity price environment that has put more pressure on crude and fractionating sand business volumes. However, strength in plastics and LPG (liquefied petroleum gas) and the other core chemical markets is expected to boost the chemicals portfolio.
The company also expects freight opportunities in fly ash. Fly ash is a byproduct of coal burning, which is used in the manufacturing of concrete.
Peer group business prospects
CSX's freight revenues tanked by 6.8% in fiscal 2015 compared with fiscal 2014. Let's look at the peer groups' change in freight revenues to have a better understanding of their business:
All the major US railroads are part of the portfolio holdings of the WisdomTree Earnings 500 Fund (EPS).
CSX's financial outlook
The company intends to spend 16%-17% of its revenues on capital expenditure in the long term. For 2016, CSX outlines capital expenditure as its foremost priority followed by dividends and share repurchases, respectively. It also plans to return 96 locomotives in the second and third quarter of the current year to match resources with the decline in volumes.
In the upcoming part of the series, we'll see what analysts are estimating for CSX and its peers over the next one year.