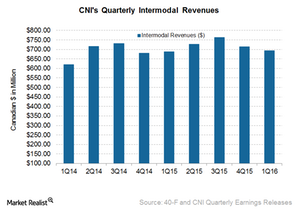 Canadian National's Intermodal: Domestic Shines, International Slumps
By Samuel Prince

Updated
Canadian National's Intermodal segment
Canadian National's (CNI) Intermodal segment accounted for nearly 25% of the total freight revenues in 1Q16. CNI's overall Intermodal revenues rose by 1% to $693.0 million Canadian in 1Q16, against $689.0 million Canadian in 1Q15.
Article continues below advertisement
Intermodal volumes
In 1Q16, the intermodal carloads were almost at the same levels compared with the same period last year. For CNI, Intermodal offered a mixed bag, with Domestic revenue up and International Intermodal revenues down in the reported quarter.
The overall increase of 1% in the Intermodal revenues was mainly due to a favorable translation impact of a weaker Canadian dollar. It was also due to higher domestic retail volumes in the Industrial and Consumer products segments and higher International volumes through the Port of Halifax.
However, these were partly offset by declining International volumes through the ports of Vancouver and Prince Rupert. The Domestic Intermodal revenues and volumes rose by 4% and 7%, respectively, in 1Q16. This was mainly due to higher volumes in CNI's Canadian door-to-door retail service.
The International revenues and volumes were down by 1% and up by 1%, respectively. The decline in the West Coast business of Canada and the US led to the decline in International Intermodal revenues in 1Q16.
Management outlook
CNI expects considerable potential in the intermodal space from the mid-2017 expansion from its West Coast port terminal partners. The company anticipates readiness of rail operations in the Port of Mobile.
CNI notes that Maersk and COSCO have announced new Panama Canal all-water service that is expected to start in Mobile in June. However, the company also anticipates weak volumes in Canada and the West Coast. CNI has renewed its large intermodal accounts and doesn't expect more large contracts until 2017.
Article continues below advertisement
The export volumes at the Port of Prince Rupert, Canada, have slowed down in the recent past. This was due to a strong US dollar since the merchandise to be exported from Prince Rupert was coming from the US Midwest markets. CNI stated that it's closely working with its old customers like COSCO and new ones like Maersk to grow the business at the Port of Prince Rupert.
Peer group intermodal 
All the Class I railroads are trying to bank on the growth in intermodal business to offset shrinking coal business. However, the intermodal business is suffering headwinds in recent times due to various factors, including higher retail inventory and competition from trucking.
Many railroads posted negative intermodal growth in 2015 compared with its previous year. Surprisingly, Canadian National's intermodal revenues were up by 5% in 2015. We'll go through the change in intermodal revenues for CNI's peer group in the same period:
Investors who want broad-based exposure to the transportation and logistics sector can opt for the iShares US Industrials ETF (IYJ). This ETF holds 5% in major US railroads.
In the next article, we'll consider CNI's second largest business, Petroleum and Chemicals.