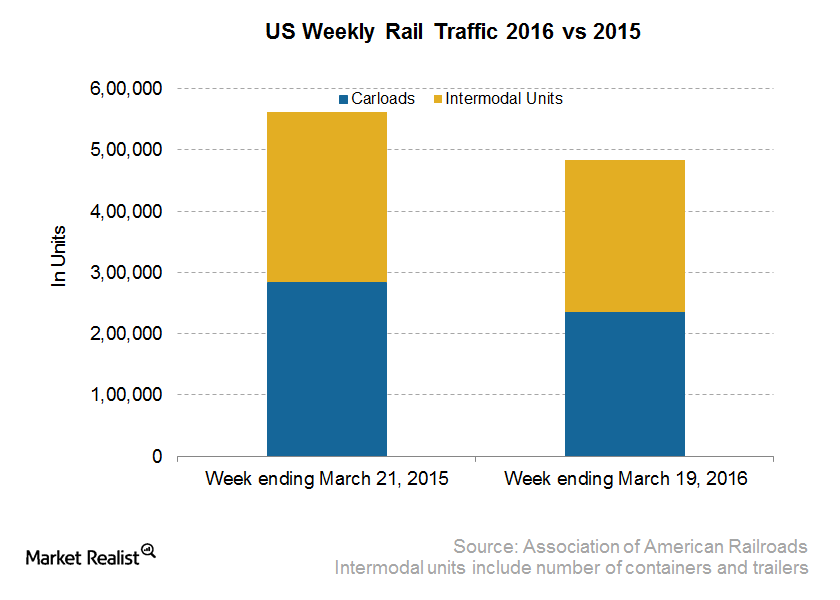 US and Canadian Rail Traffic Slumps, Mexican Railroads Shine
US and Canadian rail traffic
Every Wednesday morning, the AAR (Association of American Railroads) releases the weekly rail traffic data for the previous week. For the week ending March 19, 2016, total US railcar units went down to about 235,000, indicating a sizable decline of ~17% YoY (year-over-year) from the more than 284,000 units one year previously. In line with the previous week's trend, US intermodal slipped off the tracks, with traffic dropping by 10.7% YoY to ~248,000 units in the week ending March 19, 2016, from 278,000 units during the same period in 2015.
Canadian railroads fell in sync with its US counterparts, reporting a decline of 7.3% in railcar units in the week ended March 19, 2016, compared with same period in 2015. Canadian intermodal reported a decline of 7.4% in the same week over one year previously.
However, Mexican volumes of railcar units and Mexican intermodal were up by 5.9% and 1.3%, respectively, in the week ending March 19, 2016, over the same period in 2015.
Article continues below advertisement
North American freight traffic 
Out of ten carload commodity groups, only three reported rises during this period—motor vehicles and parts, miscellaneous carloads, and chemicals. The laggards were coal, down by 38.7%, petroleum products, and grain.
The railroads submitting weekly data handle about 95% of total US and Canadian freight traffic. Much of the freight is hauled by Class I railroads including BNSF Railway (BRK.B), Union Pacific (UNP), Norfolk Southern (NSC), CSX Corporation (CSX), Kansas City Southern (KSU), Canadian Pacific Railway (CP), and Canadian National Railway (CNI). In this series, we analyze how each of these freight rail giants fared in the week ending March 19, 2016.
If you're looking for indirect exposure to the transportation sector, you might consider investing in the Guggenheim S&P 500 Equal Weight ETF (RSP), which has 0.8% exposure to all US-originated Class I railroads.
Let's begin our specific analysis with Norfolk Southern.