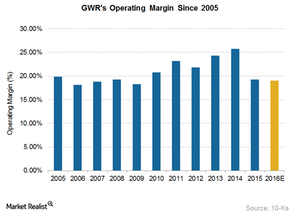 Did the Freightliner Acquisition Impact GWR's Operating Margins?
By Samuel Prince

Apr. 3 2016, Updated 12:04 p.m. ET
GWR's operating margins
In the previous part, we went through Freightliner's contribution to Genesee & Wyoming's (GWR) total revenues. In this article, we will explore GWR's operating margin. In the case of GWR's operating margins, the acquisition costs are an important factor.
Because the company has consistently indulged in acquisitions, its acquisition costs are treated as recurring instead of one-time costs. Plus, these costs prove more burdensome during downsides in revenues.
In 2015, Genesee & Wyoming (GWR) recorded ~$16.0 million in costs related to the Freightliner acquisition. In the past, it incurred $30.0 million of integration- and acquisition-related costs associated with RailAmerica.
You can note from the above graph that Genesee & Wyoming's (GWR) operating margins were typically between 18%–26% in recent years. The present levels are on par with 2009 margins.
Article continues below advertisement
What Freightliner brought in?
The story behind GWR's lower operating margins is different from the peers. Freightliner mainly operates in the UK-Europe and Australia. The company competes in these markets in an open access system. Railroads operating in the above rail mode own only trains and rolling stock.
In Australia, Genesee & Wyoming competes with five other major freight railroads for business. The lower capital intensity and prevalence of rolling stock under operating leases resulted in reduced operating margins.
Peer group access system
Genesee & Wyoming's (GWR) peers operate in a closed access system in North America. In the US and Canada, the Class I railroads operate using the concept of exclusive track ownership. Although it increases track maintenance, it reduces competition and protects revenues to a greater extent. The publicly held US Class I railroads like Norfolk Southern (NSC), CSX Corporation (CSX), Kansas City Southern (KSU), and Union Pacific (UNP) operate on a closed access system.
Investors interested in rail stocks can opt for the First Trust Industrials/Producer Durables AlphaDEX ETF (FXR). US railroads make up about 5.2% of FXR's portfolio.
This means that for Genesee & Wyoming, the risks of fall in the margin are higher in the coming quarters. Read on reading to learn what happened to GWR's Australian operations.