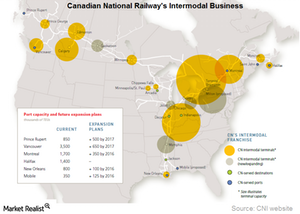 Understanding Canadian National's Intermodal Business
By Samuel Prince

Updated
Canadian National's Intermodal business
Intermodal transport involves the movement of freight in an intermodal container using multiple transportation modes like rail, ship, and truck. It doesn't involve the handling of freight when modes are changed. Canadian National's (CNI) intermodal business consists of rail and trucking services. CNI operates on a strong intermodal business.
In 2014, the average length of a haul for intermodal was 1,777 miles against the 692-mile average length of a haul for all commodity groups, including intermodal. Canadian National operates 21 intermodal terminals across Canada and the US. CNI's intermodal comprises two segments: International and Domestic.
The company's Intermodal segment accounted for 23% of its 2015 total revenues. The 2008–2015 CAGR of its Intermodal segment revenues was approximately 10%.
Article continues below advertisement
The International Intermodal segment
CNI's Intermodal International group handles import and export container traffic on behalf of ocean carrier companies. The International group serves the major ports of Vancouver, Prince Rupert, Montreal, Halifax, and New Orleans.
The Domestic Intermodal segment
CNI's Domestic Intermodal segment transports consumer products, manufactured goods, and natural resources within and among Canada, the US, and Mexico. The Domestic segment is divided into wholesale and retail services. The Retail segment includes door-to-door retail services through a wholly owned subsidiary, CNTL Trucking Services.
The Wholesale segment provides terminal-to-terminal train service to motor carriers, intermodal marketing companies, third-party logistics companies, couriers, and other transportation intermediaries.
Article continues below advertisement
Peer group's intermodal business
Intermodal growth has been fueled by CNI's increasing share of trade with Asia. About 54% of the company's total originated volumes come from commodity traffic while the remaining 46% comes from intermodal. On the other hand, Canadian National's main competitor, Canadian Pacific Railway (CP), derives 41% of its volumes from intermodal and rest from commodities. The North American housing market recovery is also driving growth in intermodal containers with housing consumables such as furniture, TVs, and patio sets.
It seems that Class I railroads have found an answer to shrinking coal revenues in the form of intermodal growth. CNI's eastern US peer, CSX Corporation (CSX), has announced a $150 million investment in the development of a new intermodal rail terminal in eastern Johnston County, North Carolina.
The US-Mexico railway, Kansas City Southern (KSU), is banking on the intermodal growth in the Port of Lazaro Cardenas. Recently, Genesee and Wyoming (GWR) acquired Freightliner, which is the UK's largest rail maritime intermodal operator.
Along with Norfolk Southern (NSC) and Union Pacific (UNP), all the above-mentioned railroads except GWR represent US Class I rail carriers. Investors who would like diversified exposure to this sector can consider the iShares Transportation Average ETF (IYT), which holds 22.2% in Class I railroads except CP and CNI.
In the next part, we will learn about the Petroleum and Chemicals business of Canadian National.