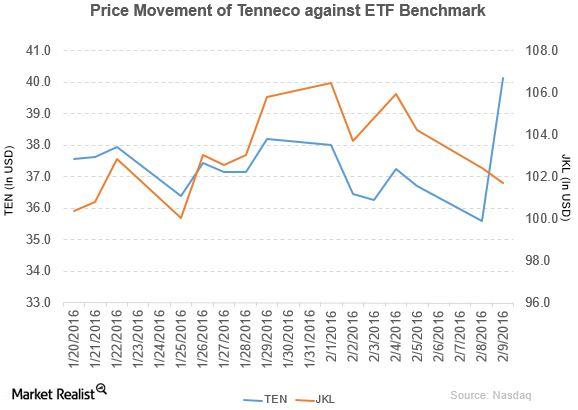 Why Tenneco's Bottom Line Rise in Both 4Q15 and 2015
Price movement of Tenneco
Tenneco (TEN) has a market capitalization of $2.3 billion. TEN rose by 12.8% to close at $40.15 per share as of February 9, 2016. The stock's price movements on a weekly, monthly, and year-to-date (or YTD) basis are 10.2%, -2.6%, and -12.6%, respectively.
At times, the stock has broken the support of all of its moving averages. Currently, TEN is trading 6.3% above its 20-day moving average, 8.7% below its 50-day moving average, and 20.9% below its 200-day moving average.
Article continues below advertisement
The iShares Morningstar Small Value ETF (JKL) invests 0.58% of its holdings in Tenneco. The ETF tracks a market-cap–weighted index of US small-cap value stocks. The index tracks stocks from the 90th to the 97th percentile of the market-cap spectrum using fundamental factors. The YTD price movement of JKL is -10.8% as of February 8, 2016.
The market capitalizations of Tenneco's competitors are as follows:
Performance of Tenneco in 4Q15 and 2015
Tenneco reported 4Q15 net sales and operating revenues of $2,031.0 million, a rise of 1.3% compared to net sales and operating revenues of $2,004.0 million in 4Q14. The company's cost of sales as a percentage of net sales and operating revenues fell by 1.2% in 4Q15 compared to 4Q14.
Its net income and EPS (earnings per share) rose to $68.0 million and $1.17, respectively, in 4Q15, compared to $21.0 million and $0.33, respectively, in 4Q14.
Article continues below advertisement
2015 results
In 2015, TEN reported net sales and operating revenues of $8,209.0 million, a fall of 2.5% YoY (year-over-year). Its net income and EPS rose to $247.0 million and $4.11, respectively, in 2015, compared to $226.0 million and $3.66, respectively, in 2014.
Meanwhile, its cash and cash equivalents rose by 1.8%, and its inventories fell by 0.87% in 2015. Its long-term debt-to-equity ratio rose to 2.6 in 2015 compared to 2.1 in 2014.
The company repurchased a total of 4.2 million shares for $213 million. At the end of 2015, it authorized the repurchase of an additional $337 million worth of shares, which will be completed by the end of 2017.
The PE (price-to-earnings) and PBV (price-to-book value) ratios of Tenneco are 12.3x and 5.4x, respectively, as of February 9, 2016.
Guidance for 2016
The company expects 2016 revenue growth of 5% at current industry growth forecasts, excluding the impact of currency.
The company has made the following projections for 2016:
Capital expenditures in the range of $300–$330 million
Annual interest expense of $75 million
Cash taxes in the range of $140–$160 million
Tax rate in the range of 31%–32%
For 2017 and 2018, Tennent expects revenue growth of 6%–8% and 7%–9%, respectively. It expects to outpace industry production by 3%–5% each year as new light vehicle emissions regulations begin in North America and Europe.