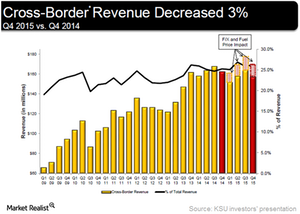 What Are the Major Risks Faced by Kansas City Southern?
By Samuel Prince

Feb. 15 2016, Updated 1:38 a.m. ET
Stiff competition
Kansas City Southern (KSU), unlike other Class I railroads, faces strong competition major railroads like Union Pacific (UNP) and BNSF Railway (BRK.B) in the US. The Mexican subsidiary competes with Ferromex and Ferrosur in Mexico.
Apart from these railroads, Kansas City Southern is subject to competition from truck carriers (LSTR), barge lines, and other maritime shippers. Given KSU's relatively small scale of operations, its competition is probably the toughest among all Class I railroads. The iShares S&P 500 Value ETF (IVE) holds 1.05% in Class I railroads, excluding KSU.
Article continues below advertisement
Mexican concession
KSU operates in Mexico through Kansas City Southern de Mexico (or KCSM). KCSM runs Mexican operations via a concession granted by the Mexican government until June 2047, an exclusive concession until 2027. However, the Mexican government has the right to take over the management of KCSM and its rail lines in exceptional circumstances.
Fuel costs and disruptions in fuel supplies
In general, all the railroads' operations are subject to fluctuation in fuel prices. However, in the case of KSU, its Mexican subsidiary KCSM is required to procure fuel at market prices from PEMEX. PEMEX is Mexico's national oil company, which is owned by the government.
It has the sole rights to distribute and sell diesel fuel in Mexico. The termination of the fuel contract with PEMEX and KCSM's inability to procure fuel from alternate sources can disrupt its Mexican operations.
Article continues below advertisement
Nuevo Laredo–Laredo border gateway
In recent years, increased US-Mexico trade and growth in NAFTA trade has resulted in congestion on the international bridge at the Nuevo Laredo, Mexico–Laredo, Texas, border gateway.
In the past, this has resulted in operational inefficiencies and may result in these inefficiencies in the future. This can significantly impact KSU's ability to provide seamless movement of trains and serve its customers. In 2015, KSU lost some intermodal business due to service issues.
KSU's Mexican operations are subject to economic and political risks
KCSM's business prospects may be affected by currency fluctuations, inflation, and interest rates. Regulation, taxation, and other political and economic developments in Mexico can substantially affect the Mexican subsidiary.
The Mexican government can impose foreign exchange controls on investments made in Mexico by outside entities. It can impact KCSM's ability to obtain US dollars or to convert Mexican pesos into dollars. Plus, Lázaro Cárdenas is notorious for drugs, smuggling, organized crime, and gangs. The possibility of organized assaults robbery attempts on all railroads can't be ruled out.