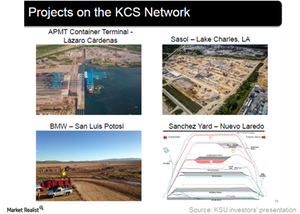 Kansas City Southern's Prime Jewel: Port of Lázaro Cárdenas
By Samuel Prince

Updated
Port of Lázaro Cárdenas
Kansas City Southern (KSU) has the sole concession to serve the Port of Lázaro Cárdenas. Located in Mexico on the Pacific coast, the deepwater seaport is one of the largest in Mexico. Its deep water advantage offers maximum vessel flexibility.
This port is of strategic importance for trade between Asia and North America. The Port of Lázaro Cárdenas has a locational advantage for ocean carriers, manufacturers, and retailers.
Article continues below advertisement
APMT container terminal
Lázaro Cárdenas has sufficient land for future terminal expansion. Investors should note that the second container concession was awarded to APM in December 2011. This terminal is expected to double the port capacity and is slated to open in the second half of 2016.
APM Terminals expect to invest $900 million in the project. The new container port's expected capacity is 1.2 million 20-foot equivalent unit1 (or TEUs). The container port's projected volume would be 3 million TEUs by 2019.
In 2012, SSA Marine was awarded a concession to develop, operate, and maintain a specialized auto terminal. The annual handling capacity is 750,000 automotive.
Hutchinson Port Holdings installed six new vessel cranes at Lázaro Cárdenas in the last two years.
Sasol Chemical's plant
In June 2015, Kansas City Southern (KSU) entered into a long-term lease agreement with Sasol Chemicals for the construction and long-term lease of a $800 million storage-in-transit rail yard.
Sasol's new ethane cracker and derivatives project in Lake Charles, Louisiana, is expected to begin in 2018. The ethane cracker will produce 1.5 million tons of ethylene annually, boosting the KSU's freight prospects.
Article continues below advertisement
BMW's plant at San Luis, Potosi
BMW expects to kick-start its automotive plant in San Luis Potosi, Mexico, in the second quarter of 2019. The estimated production capacity would be 150,000 units annually.
Sanchez yard
The Sanchez yard is a $60 million expansion project located in Nuevo Laredo in Mexico. With the expansion, the Mexican subsidiary, KCSM, expects to process trains at the border more fluidly. It should reduce cross-border transit times.
Union Pacific (UNP), a close competitor of KSU, recently invested $23 million in its New Mexico rail infrastructure. The other rival, BNSF Railway (BRK.B) has a presence in Mexico through BNSF Mexico, with access to five US-Mexico border gateways. Along with Norfolk Southern (NSC) and CSX Corporation (CSX), these represent US Class I railroads, which form part of the iShares Core S&P 500 ETF (IVV).
1 A unit of cargo capacity used to measure the capacity of container terminals.