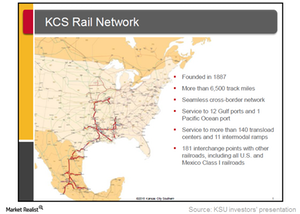 Kansas City Southern: The Smallest Class I Railroad
By Samuel Prince

Updated
Kansas City Southern Railway: The US subsidiary
Kansas City Southern Railway (or KCSR) runs on 3,300 route miles. KCSR owns and operates rail networks in ten states, covering the Midwest and Southeast portions of the US to the Mexican border. The 3,300 route miles include ~585 miles of trackage rights. Trackage rights allow any railroad to operate its trains, either with or without a crew, over tracks owned by other railroads.
KCSR operates the shortest north and south rail route between Kansas City, Missouri, and various major ports along the Gulf of Mexico in Alabama, Louisiana, Mississippi, and Texas.
Article continues below advertisement
Kansas City Southern de Mexico
Kansas City Southern de Mexico (or KCSM) has a 50-year concession or rights from the Mexican government, expiring in 2047. Under this concession, KCSM operates 3,200 route miles along with 550 miles of trackage rights in Mexico. The company operates a core route, which is the shortest and most direct rail passage between Mexico City and Laredo, Texas. Laredo, a border city, is an international gateway between the US and Mexico. It accounts for more than 50% of all rail and truck traffic between the two countries.
The Mexican subsidiary serves the majority of Mexico's prominent industrial cities and three of its main seaports. Apart from this, KCSM's rail lines give sole rail access to the US and Mexico border at Nuevo Laredo, Tamaulipas. It is the largest rail freight interchange point between the United States and Mexico. The company renders sole rail access to the Port of Lázaro Cárdenas on the Pacific Ocean.
Another key subsidiary
KSU also owns Meridian Speedway, a 70% consolidated affiliate. Meridian Speedway owns a rail line between Meridian, Mississippi, and Shreveport, Louisiana.
Major Class I railroads in the US operate as a duopoly. While BNSF Railway and Union Pacific (UNP) compete with each other in the Western US, Norfolk Southern (NSC) and CSX Corporation (CSX) compete in the Eastern US. Investors who would like diversified exposure to this sector can consider the iShares Transportation Average ETF (IYT), which holds 20% in Class I railroads and 6.63% in Kansas City Southern (KSU).