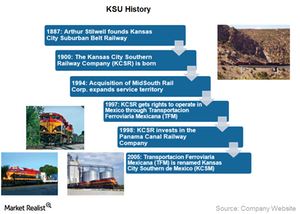 Kansas City Southern: A Company Overview
By Samuel Prince

Feb. 15 2016, Updated 12:20 a.m. ET
Kansas City Southern
Kansas City Southern (KSU) is a holding company that operates in the US and Mexico through two dedicated subsidiaries. Kansas City Southern Railway Company (or KCSR) operates in the United States. The Mexican operations are run through Kansas City Southern de Mexico (or KCSM). Headquartered in Kansas City, Missouri, KSU employs ~6,500 employees in the US and Mexico.
Article continues below advertisement
History of KSU's US operations
Today's Kansas City Southern is the vision of Arthur Stilwell, who founded Kansas City Suburban Belt Railway (or KCSBR) in 1887. The primary markets served were the Argentine District and the Riverside Commercial and Industrial districts of Kansas City. The KCSBR became Kansas City, Pittsburg and Gulf Railroad Company (or KCP&G), which was later renamed as The Kansas City Southern Railway Company (or KCSR) in 1900.
KCSR expanded its horizons, extending from Dallas, Texas, to New Orleans, Louisiana, and from Minden, Louisiana, to Hope, Arkansas. From there, it linked Kansas City to New Orleans.
KSU's entry into Mexico
Numerous mergers in the US railroad industry in the mid-1990s catapulted KCSR's expansion into Mexico. The 1994 North American Free Trade Agreement between the US, Canada, and Mexico gave a strategic advantage to KCSR's Mexico plan. In 1995, KCSR formed Transportacion Ferroviaria Mexicana (or TFM) along with Grupo TMM, Mexico. TFM won a contract from the Mexican government to operate 3,200 route miles in Mexico in 1995.
Article continues below advertisement
In the same year, KCSR purchased 49% in MexRail shares, which operates between Laredo and Corpus Christi, Texas, through Tex-Mex. It is the only railroad to provide a link between Mexico and the US through International Bridge in Laredo. In 1995, Tex-Mex received trackage rights to connect KCSR in Beaumont, Texas, thus linking KCSR and Tex-Mex.
KCSR invested in the Panama Canal Railway Company in 1998. Kansas City Southern acquired Grupo TMM's share in TFM in 2004. In 2005, TFM was rechristened as Kansas City Southern de Mexico (or KCSM) after KSU's acquisition of controlling interests in that company.
Investing in ETFs
Norfolk Southern (NSC) and CSX Corporation (CSX) operate from east to west. On the other hand, BNSF Railway and Union Pacific (UNP) operate from west to east. Distinctively, KSU's lines run from the Central and South Central US south to Mexico. KSU and its peer companies account for 0.72% of the SPDR S&P 500 ETF (SPY).