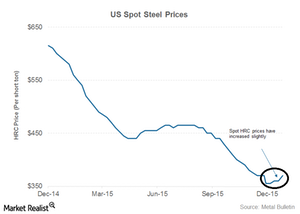 Why US Steel Prices Might Not Recover Much in 2016
US steel prices
Falling steel prices have been a big challenge for US steel companies. Major companies including AK Steel Holding Corporation (AKS), United States Steel Corporation (X), and Steel Dynamics (STLD) have cut spot steel shipments in the last few months as spot steel prices deteriorated sharply in 4Q15. Not many US steel mills can make money selling steel at such depressed prices.
Investors looking to diversify the risk of investing in a single security can consider the SPDR S&P Global Natural Resources ETF (GNR). Almost a quarter of GNR's holdings are invested in steel and other metal companies. Nucor Corporation (NUE) forms 1.7% of GNR's portfolio.
Article continues below advertisement
Market expectations
Bank of America expects spot HRC (hot-rolled coil) prices to rise to $455 per short ton in 2016. Although spot steel prices have recovered somewhat in the ballpark of ~$20 per short ton over the last couple of weeks, they are still almost $80 per ton lower than what Bank of America is forecasting for 2016. The graph above shows the trend in US spot HRC prices.
What will drive steel prices in 2016?
There isn't much difference between standard grade steel products, regardless of whether they are produced in China or Europe. The reality is that China is able to export a record amount of steel because end users want it. If US steel mills try to raise their base selling prices, service centers including Reliance Steel & Aluminum (RS) might raise their overseas purchases to take advantage of lower international steel prices.
Moreover, as prices of raw materials including iron ore, coal, and steel scrap are also falling, it would be difficult for US steel mills to justify their price increases. Other industrial metals including aluminum and copper are also falling. These factors will make it difficult for spot HRC prices to rise much beyond $400 per short ton.
In the next part of this series, we'll explore how contract steel pricing could shape up in 2016.