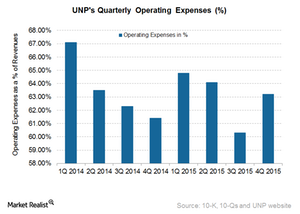 Why Did Union Pacific's Operating Ratio Rise in 4Q15?
By Samuel Prince

Feb. 9 2016, Updated 8:04 a.m. ET
Operating expenses
In Union Pacific's (UNP) earnings release on January 21, 2016, the company reported a 15% fall from its 4Q14 operating revenue, amounting to $5.2 billion in 4Q15. UNP's 4Q15 operating expenses were at $3.2 billion, down by 13% from 4Q14. ~50% of a railroad's capital expenditure goes towards maintaining fixed assets. Therefore, operating expenses are critical.
In 4Q15, the company reported an operating ratio of 63.2%, which was unfavorable compared with the ratio of 61.4% in the last quarter of 2014. However, in 2015, UNP's operating ratio was 63.1%, against 63.5% in 2014. A sharp reduction in volume, the alignment of assets to fit current demand, and pricing improvements were major drivers for the lower 2015 operating ratio.
Article continues below advertisement
Compensation and benefits
In 4Q15, UNP's compensation and benefit expenses stood at $1.2 billion, down by 5% from 4Q14. Lower volumes and better labor efficiencies resulted in reduced expenses. Additionally, the company's non-agreement train, engine, and yard workforce was reduced by 7% from 2014.
Fuel charges
Fuel charges for 4Q15 went down by 48% from 2014 to $424 million. The major reasons behind this fall were a lower diesel fuel price, $1.61 versus $2.66 in 2014, and a 14% reduction in GTM (gross ton miles). GTM is the product of total weight, inclusive of weights of loading cars and locomotives, and the distance moved by train. The lower GTM reflects uncertainties related to volumes for UNP.
Article continues below advertisement
Purchased services and materials
UNP's purchase material and other expenses were at $589 million in 4Q15, down by 11% from 4Q14. The fall was attributed to lower volumes and lower repair costs associated with locomotives and railcars.
Management outlook
Union Pacific expects a lower headcount in 2016 compared with 2015. The company expects 2% labor inflation in 2016 and lower pension and depreciation expenses. Management anticipates fuel prices to negatively impact earnings in 2016.
UNP's operating ratio was 63.5% in 2014. Its peer group's operating ratios were as follows:
These companies form 14.9% of the VanEck Vectors Morningstar Wide Moat ETF (MOAT). In the next part of this series, we'll assess the share buyback program by Union Pacific.