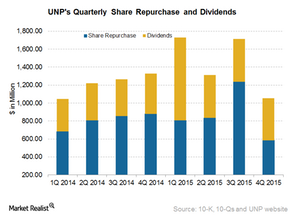 Union Pacific: Share Repurchases despite Falling Stock Price
By Samuel Prince

Jan. 27 2016, Updated 7:07 a.m. ET
Shareholders' return
Previously, we analyzed Union Pacific's (UNP) operating expense levels in 4Q15 and their driving factors. In this article, we'll look at whether UNP will be able to maintain the same pace of repurchasing in the future. UNP's stock has fallen by 37.5% in the last year. Although it reported a 9% fall in operating revenues in 2015, its cash from operations remained almost flat between 2014 and 2015 at $7.3 billion.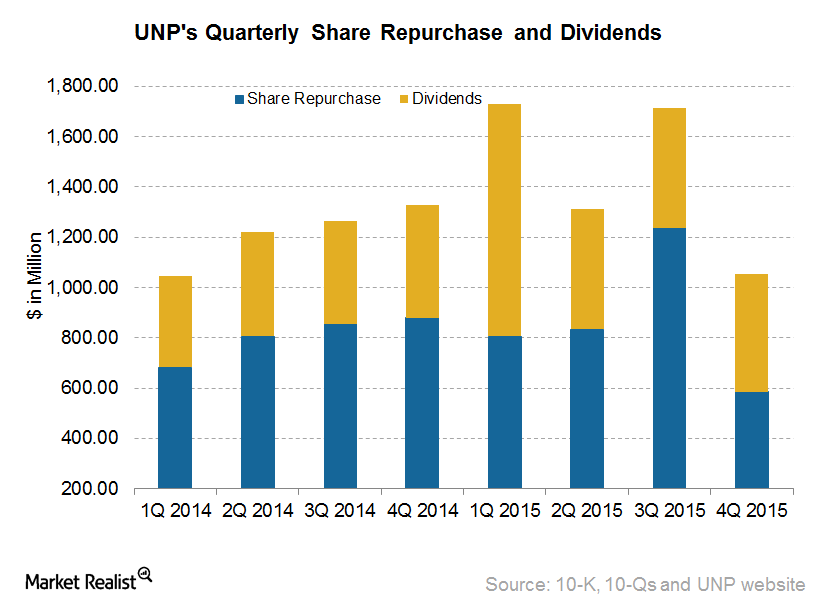 Article continues below advertisement
Share repurchase program expires on December 31, 2017
In 2015, the company returned $5.8 billion in cash to shareholders in the form of share purchases and dividend payments. This figure was up by 20% from 2014. UNP repurchased 35.3 million shares for a total of $3.5 billion in 2015, representing 5.9% of the market capitalization. However, UNP slowed the speed of its share repurchases in 4Q15, repurchasing 6.6 million shares totaling $586 million.
Free cash flows
The free cash flows of $524 million in 2015 were almost on par with those of 2014. This was mainly due to productivity gains, network realignment, and cost cutting exercises. Compared with 2014, UNP's train size performance was better in 2015 in all freight groups except intermodal. The company's year-end cash balance was $1.3 billion, up by $313 million over the balance on September 30, 2015.
Article continues below advertisement
Dividends
In 1Q15, the dividend payment included $438 million accrued in 4Q14. In the beginning of 2015, UNP aligned the timing of dividend declaration and payment in the same quarter. The company paid a quarterly dividend of $0.55 per share in the fourth quarter of 2015, against $0.50 per share in 4Q14. UNP's forward dividend yield was 3.1%. Its peer group's dividend yields were as follows:
The iShares Transportation Average ETF (IYT) holds a total of 21.5% in Class I railroads.
Our analysis
UNP's active locomotive fleet went down by 13% in 4Q15. The train, engine, and yard workforce tanked by 18% in 4Q15 on a year-over-year basis. The management has not issued guidance for 2016. Lower volumes and an unfavorable business mix could potentially impact UNP's revenues over the next four quarters, which could affect its stock price. In the next part of this series, we'll review analysts' opinions about Union Pacific and its peers.