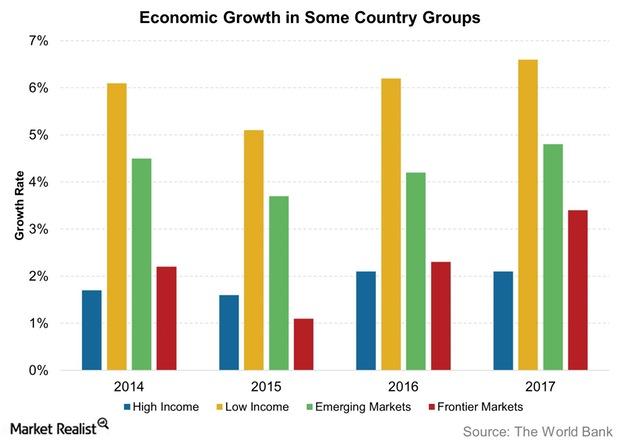 Is It Time to Look at Developing Economies for Growth?
By David Ashworth

Nov. 20 2020, Updated 11:50 a.m. ET
Growth in emerging and frontier markets
The World Bank's semiannual Global Economic Prospects report, released in January 2016, projected that emerging market economies—that had risen at a 4.5% rate in 2014—had slowed down to an estimated 3.7% pace in 2015. In 2016, the Bank expects these economies to rise 4.2%, followed by a 4.8% pace in 2017 and a 4.9% pace in 2018.
Frontier markets, including countries like Argentina, Costa Rica, Nigeria, Paraguay, and Sri Lanka, are expected to post even slower growth than emerging economies. This group, whose economy rose at a 2.2% pace in 2014, is estimated to have posted growth of just 1.1% in 2015. The pace of growth is expected to be 2.3% in 2016 and to rise to 3.4% and 3.8%, respectively, in 2017 and 2018.
The World Bank noted that the slow growth rate of emerging and developing countries coincided "with a sharp slowdown in global trade, a rise in financial market volatility, and a substantial decrease in capital inflows."
Currency depreciation in the wake of tighter US monetary policy is leading to depressed exports as well as increased dollar-denominated loans as the dollar rises.
Article continues below advertisement
Growth in high-income countries
High-income countries had grown at a 1.7% pace in 2014. The pace is estimated to have been a little lower at 1.6% in 2015 but is expected to rise to 2.1% in 2016 and maintain that to 2018.
So, the question here is whether or not macroeconomic headwinds should lead investors out of emerging and frontier markets.
For conservative investors and those who have short-term to medium-term investment goals, frontier markets likely shouldn't be an investment destination. These investors can use mutual funds like the American Funds EuroPacific Growth Fund – Class A (AEPGX) for diversifying their non-US equity investments across the world. The fund invests in over 290 securities and provides exposure to stocks like SoftBank Group (SFTBY), Prudential (PUK), Baidu (BIDU), and Ryanair Holdings (RYAAY).
However, moderate investors, with a medium-term to long-term investment horizon can use mutual funds like the Columbia Acorn Emerging Markets Fund – Class A (CAGAX) to remain invested in emerging markets.
If you have a sizable exposure to emerging markets, some reallocation to developed markets can be helpful in 2016.
In the next article, let's see the World Bank's expectation about Brazil, Russia, India, China, and South Africa.