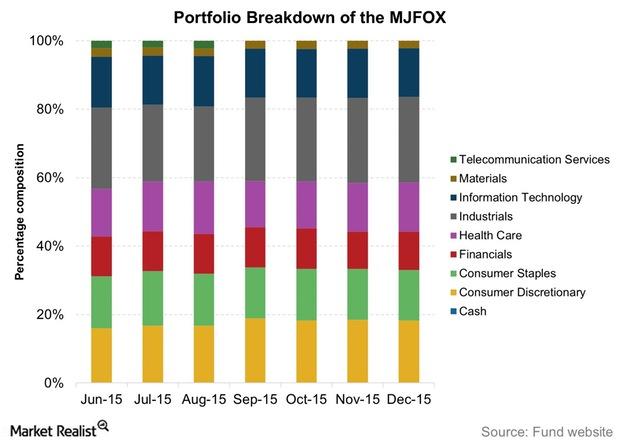 A Portfolio Scan of the Matthews Japan Fund (MJFOX) in 2015
By David Ashworth

Feb. 14 2016, Updated 10:04 a.m. ET
Matthews Japan Fund
The Matthews Japan Fund – Investor Class (MJFOX) states that it seeks "long-term capital appreciation" by "investing at least 80% of its total assets, which include borrowings for investment purposes, in the common and preferred stocks of companies located in Japan."
While describing its approach toward investing in Asia, the fund house believes that popular equity indexes of the region are "backward-looking." This means that the composition of these indexes is not reflective of industries and companies that would flourish in the future.
Article continues below advertisement
The Matthews Japan Fund – Investor Class (MJFOX)adopts a bottom-up approach to constructing portfolios. This means that it looks at companies with acceptable valuations that are expected to do well in the future, rather than specific industries. The fund managers also believe in active management, so potential investors should be willing to accept high levels of portfolio turnover.
The fund is well diversified, with 61 holdings as of December 2015 and $1.95 billion in assets under management. As of the September portfolio, its equity holdings included Toyota Motor (TM), Tokio Marine Holdings Inc. (TKOMY), ORIX Corporation (IX), Nidec Corporation (NJ), and Sumitomo Mitsui Financial Group, Inc. (SMFG), comprising 11.6% of the fund's portfolio.
Historical portfolios
For this analysis, we will consider holdings as of September 2015, which is the latest available sectoral breakdown with us. The post-September holdings reflect the valuation-driven changes to the portfolio, not the actual holding.
The fund, unlike some of its peers, is primarily focused on the Japanese industrials sector. Stocks from the sector form a quarter of the fund's assets. The consumer discretionary sector is a distant second. Assets are quite evenly distributed between consumer staples, healthcare, and information technology sectors. These three complete the top five sectoral holdings of MJFOX. The fund has no investments in the energy or the utilities sectors.
In 2015, fund managers have increased exposure to the consumer staples and financial sectors. Most other sectors have retained their weights year-over-year. In a significant move, fund managers exited the telecom services sector in 3Q15.
The fund's management has turned the portfolio over quite a bit. Has this recomposition helped the fund post a strong performance in 2015? Let's see that in the next article.