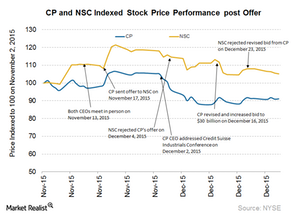 Norfolk Southern: Is Canadian Pacific Heading for a Proxy Fight?
Canadian Pacific heading for a proxy fight? 
On December 23, 2015, Norfolk Southern (NSC) rejected a third proposal from Canadian Pacific (CP) in the latter's bid to acquire Norfolk Southern. On December 16, before that announcement, activist investor and Canadian Pacific board member William Ackman said, "what we want to do is sit down with sensible people, see that there's some value here, the deal can be struck, get something signed up as a Christmas present to the shareholders of both companies and then push forward." However, given the manner in which Norfolk Southern's board has collectively rebuffed the offer, nothing can be said with certainty.
Article continues below advertisement
Other railroads in the fray
The US Class I railroads are divided over improving efficiency through mergers and acquisitions. While major western carrier Union Pacific (UNP) clearly indicated that it would keep away from any consolidation activity, its archrival BNSF Railway said it would not sit idly just watching what is happening in the industry, and may consider extending an offer to Norfolk Southern or CSX Corporation (CSX).
The iShares US Industrials ETF (IYJ) holds 2.5% in Union Pacific (UNP), 0.96% in CSX Corporation (CSX), 0.95% in Norfolk Southern (NSC), and 0.31% in Kansas City Southern (KSU), all Class I railroads.
Class I railroads' duopolies
Major railroads operate as duopolies across most of the United States. On the eastern side, Norfolk Southern competes with CSX Corporation, while BNSF Railway competes with Union Pacific in the western United States and Canada. Canadian Pacific is a transcontinental railroad in Canada, and competes with Canadian National Railway (CNI). In the United States, Canadian Pacific has a network that includes Minneapolis, Milwaukee, Detroit, Chicago, and New York City.
In this series, we'll discuss the details of Canadian Pacific's offers and Norfolk Southern's logic behind its rejections of those offers.