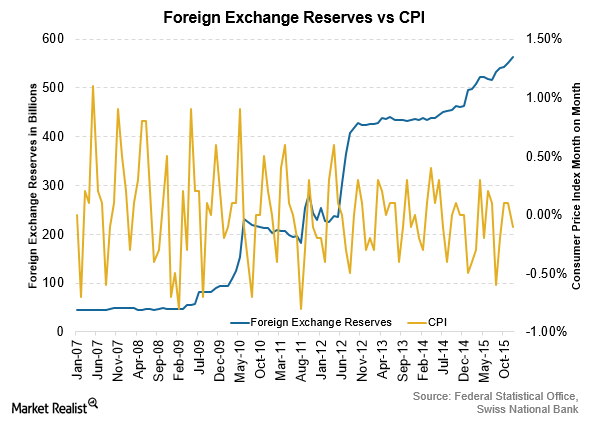 Macros Indicate Strong Swiss Franc, SNB Might Have Other Plans
By David Meyer

Jan. 4 2016, Published 12:13 p.m. ET
Swiss franc expected to remain stable
The Swiss franc had a volatile start to 2015. The euro-Swiss franc ceiling was taken out by the SNB (Swiss National Bank) ahead of the ECB's (European Central Bank) decision to go for easing. The Swiss franc has a high correlation to the euro. This isn't a surprise because most of its trade happens with the euro. Even the SNB's decisions on the interest rate depended on the ECB's monetary policy. The trend is expected to continue in 2016. ECB Chief Mario Draghi made it clear that he will go for more easing if the economy doesn't show signs of improvement. Any decrease in the interest rate by the ECB will be followed by the SNB. Switzerland doesn't want its currency to strengthen against its trading partners. The new government was sworn in towards the end of the year. It's expected to spur the economy. The government's stability adds strength to the currency.
Article continues below advertisement
Fundamentals are mostly strong
The foreign exchange reserves have been rising. The SNB keeps interfering in the market to ensure that the currency doesn't strengthen too much. The constant buying of foreign currencies, mainly the euro, resulted in the reserves nearing 600 billion. The major negative for the Swiss franc is inflation. It didn't climb above 1% in the past seven years. The latest readings show negative inflation. The demand for the Swiss franc as a safe-haven currency also causes problems for the SNB due to undesired appreciation. The US dollar-Swiss franc pair is expected to move in line with the euro in 2016. The pair is earmarked for slight appreciation in 2017. The euro is also expected to gain in 2017.
Impact on the market
From January 23, 2015, to December 28, 2015, the iShares MSCI Switzerland Capped ETF (EWL) ended on a lower note by 2.8%. The Guggenheim CurrencyShares Swiss Franc ETF (FXF) also fell by 12.4%.
From January 2, 2015, to December 28, 2015, Swiss ADRs (American depositary receipts) trading in the US markets ended on a mixed note. ABB (ABB) and Credit Suisse Group AG (CS) fell by 13.9% and 11.6%. On the other hand, Logitech International (LOGI) rose by 13.3% at the end of the year.