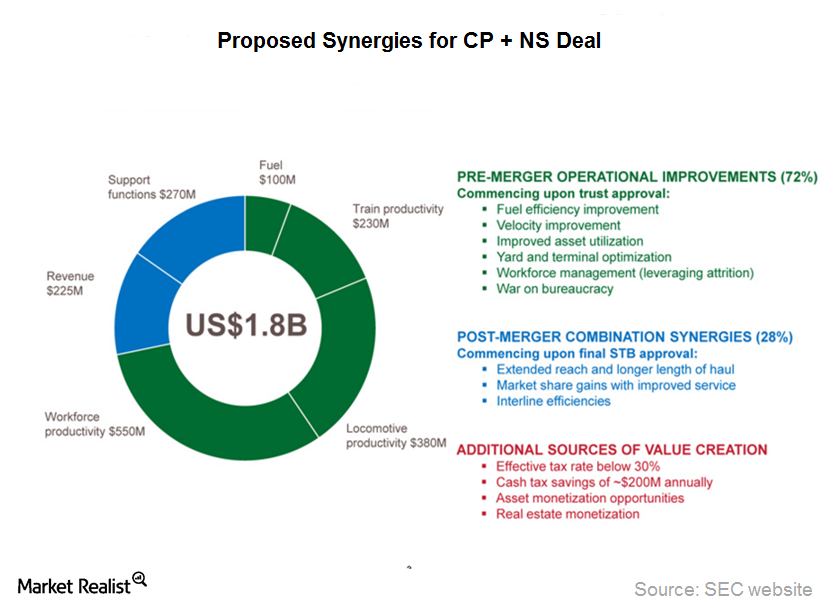 A Look at Canadian Pacific's Proposed Synergies
By Samuel Prince

Jan. 24 2016, Updated 10:05 a.m. ET
The pre-merger improvements
In the previous part of this series, we went through the merger structure proposed by Canadian Pacific (CP). In this part, we'll examine the synergies proposed by CP and its rejection by Norfolk Southern (NSC). According to CP, the pre-merger improvements would start with Hunter Harrison taking over as NSC's CEO. CP anticipates pre-merger operational benefits of $1.2 billion.
The pre-merger productivity measures include velocity improvements, increased employee productivity, terminal and yard optimization, and better asset utilization. Total pre-merger operational improvements are expected to be phased in by 17%, 42%, 67%, 92%, and 100% for each year from 2016 to 2020, respectively. This competes directly with the five-year plan put forth by NSC in December 2015.
Article continues below advertisement
Post-merger gains
The post-merger combination synergies of $495 million account for 28% of the $1.8 billion in synergies. These include extended reach, longer length of haul, increased market share, and interline efficiency. You can refer to the third article of this series to learn more on this. The transaction is anticipated to materialize on or before December 31, 2017. CP also foresees some corporate level gains.
Norfolk Southern's views on synergies and a voting trust
On December 23, 2015, Norfolk reiterated its original views on low valuations and regulators not approving the deal. It further stated that the proposed CVR (contingent value right) would trade at a substantial discount. The company argued that CP has the option to seek a declaratory order from the STB (Surface Transportation Board) on the feasibility of the voting trust structure. A declaratory order is an instrument issued by the STB that allows the acquirer to set up a voting trust if the board observes that the transaction is in the public's interest. CP has not approached the STB to seek a declaratory order.
Furthermore, NSC believed that CP's synergy targets were overstated and that any near-term cost savings that might result from applying CP's operating model would be offset by traffic diversions, service deterioration, and loss of service-sensitive customers.
The iShares US Industrials ETF (IYJ) holds 2.5% in Union Pacific (UNP), 0.96% in CSX Corporation (CSX), 0.95% in Norfolk Southern (NSC), and 0.31% in Kansas City Southern (KSU), all Class I railroads. In the next part of this series, we'll examine Moody's views on the transaction and the future debt levels of the proposed entity.