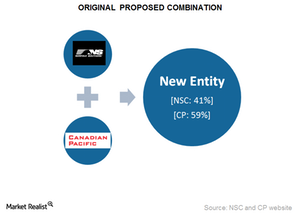 What Was Canadian Pacific's Original Indication of Interest?
By Samuel Prince

Dec. 4 2020, Updated 10:52 a.m. ET
Pre-offer developments
In the previous part of this series, we discussed Norfolk Southern's (NSC) rejection of Canadian Pacific's (CP) offer and the subsequent industry reaction. In this part, we'll go over Canadian Pacific's initial offer to Norfolk Southern. On November 13, 2015, Norfolk Southern CEO James Squires and Canadian Pacific CEO Hunter Harrison met in person. Harrison proposed a meeting between the two companies' boards of directors. On November 16, Squires advised Harrison to sign a confidentiality agreement for that meeting, which the latter rejected.
Article continues below advertisement
Indication of interest
On November 17, Canadian Pacific's Harrison sent an indication of interest letter to Squires. Canadian Pacific (CP) proposed a 50% cash and 50% stock transaction based on CP's and Norfolk Southern's (NSC) stock closing prices on November 13, 2015. NSC shareholders would receive $46.72 in cash and 0.35 shares of a new entity that would own both NSC and CP. While NSC shareholders would own 41% of the new entity, CP shareholders would own 59%. The deal valued NSC's shares at ~$27.0 billion at the time of the first offer.
Post CP's initial offer to NSC in November, competitor CSX Corporation (CSX) went down well below the October trading levels on the NASDAQ. CP and CSX Corporation, along with Kansas City Southern (KSU) and Union Pacific (UNP), form Norfolk Southern's peer group. Investors can indirectly invest in NSC through the Industrial Select Sector SPDR ETF (XLI), which holds 1.5% in NSC, 3.8% in UNP, 1.6% in CSX, and 0.42% in KSU.
Canadian Pacific's projected benefits
CP believes that the proposed combination would create a transcontinental rail network that would reach major harbors situated along the North American Atlantic Coast and Pacific Coast and the US Gulf Coast. With NSC's positive reply, CP anticipated the following:
a collaborative regulatory approval process from the US Surface Transportation Board, a regulatory body that governs railroad operations and proposed business combinations
$1.8 billion in savings each year over the next several years on the operations front
significant tax savings in addition to operating synergies, with up to 45% pro forma EPS (earnings per share) accretion resulting from the synergies
a healthy balance sheet as a combined entity, with a targeted BBB rating and an EBITDA (

earnings before interest, tax, depreciation, and amortization

) ratio of nearly 4.0x
integrated operations at a minimum of four main rail gateways
reduced Chicago rail congestion
enhanced service offerings to shippers
In the next part of this series, we'll look at why Canadian Pacific might be interested in acquiring Norfolk Southern amid the current weak railroad industry fundamentals.