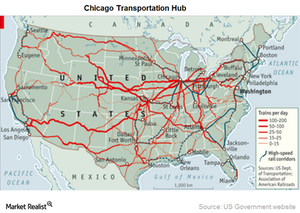 Why Canadian Pacific Wants to Divert Rail Traffic from Chicago
By Samuel Prince

Jan. 14 2016, Updated 7:10 a.m. ET
Canadian Pacific's traffic rerouting plan
In the last part of this series, we analyzed Canadian Pacific's (CP) interests in Norfolk Southern (NSC). In this part, we'll look at CP's plan to divert rail traffic away from Chicago. According to CP, a merger with NSC would provide opportunities to interchange traffic with other railroads at alternative gateways and streamline Chicago traffic. CP has proposed modified terminal access. This would allow other another rail carriers to operate over the new entity's lines to serve customers not satisfied with the new entity's service or seeking more competitive rates. CEO Hunter Harrison believes that giving modified access to other railroads' terminals offers shippers more choice.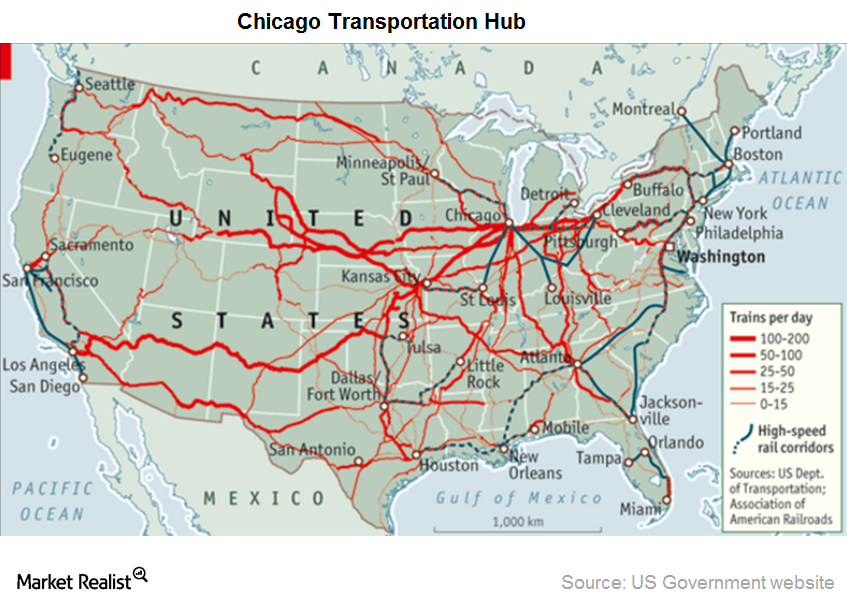 Article continues below advertisement
Chicago hub
Chicago divides eastern railroads NSC and CSX Corporation (CSX) and western freight rail carriers Union Pacific (UNP) and BNSF Railway. Canadian National Railway (CNI) and CP have operations to the east and west of Chicago.
The 500 freight trains passing through Chicago move one-third of all US freight rail traffic and close to 60% of all US intermodal traffic, which is cargo in standardized containers that can be moved by ship, train, or truck without being handled itself.
Cargo passes through Chicago on trains that travel straight between terminals or main yards of two distinct rail carriers, which requires coordination between the multiple rail carriers in Chicago.
The 75th Street Corridor in southern Chicago is a highly congested rail point. Per day, 90 freight trains operated by NSC, CSX, CP, and UNP run along rail corridors that intersect at the rail point.
The iShares US Industrials ETF (IYJ) holds 2.5% in Union Pacific (UNP), 0.96% in CSX Corporation (CSX), 0.95% in Norfolk Southern (NSC), and 0.31% in Kansas City Southern (KSU), all Class I railroads.
Chicago's present system is struggling to serve the growing freight traffic due to insufficient capacity. Long freight trains can't adjust to Chicago's condensed track sections between most of the area's grade crossings. When a train stops, freight trains are required to stop miles away to avoid congestion at grade crossings. This reduces network capacity substantially.
Deal rationale
If approved, the merger between NSC and CP is expected to create the third-largest Class I railroad in the United States, increase the market share, and improve interline efficiency. Interline cargo is the freight interchanged by railroads between its origin and destination. It is a contractual transfer of merchandise from one railroad to another. Since there are hardly any overlapping lines between NSC and CP, their combination is expected to create single-line hauls with few interchanges. CP would be able to offer longer hauls for intermodal containers, oil, and auto products, which would optimize the train speed. CP's dependence on traditional grain freight would be minimized by the boost of industrial and consumer product freight.
In the next part of this series, we'll review NSC's reaction to CP's initial offer and NSC's views regarding the proposed diversion of traffic away from Chicago.