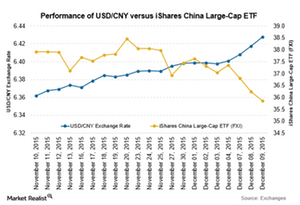 Yuan Tumbles as China's Central Bank Hikes Official Midpoint Rate
By David Meyer

Dec. 10 2015, Updated 5:10 p.m. ET
Yuan continues to decline
The Chinese yuan extended its depreciation against the US dollar on December 9, 2015, as the PBC (People's Bank of China) increased its midpoint reference rate between the US dollar and the Chinese yuan by 0.15% from the previous official fix. This indicates that the PBC was allowing further depreciation in the yuan in order to increase competitiveness at a global level. The movement in the yuan is pegged up to 2% against both sides of the official reference rate, as decided by the PBC.
Article continues below advertisement
A four-month low amid negative sentiment
The persistent depreciation of the Chinese yuan has brought the currency to a four-month low and could have the potential to revive further currency war risks, as we saw in August this year when the PBC devalued the yuan, citing slow demand globally.
The PBC appears to be wary of a sharp sell-off in Asian markets, and so it has been undergoing a more gradual depreciation process with the yuan in order to avoid panic among investors, as we saw in August. The sentiment going forward thus remains negative for the yuan, considering that the slowdown globally, across most major world economies, still persists.
Meanwhile, the US dollar index has the potential to move further up as the FOMC (Federal Open Market Committee) December 2015 meeting approaches and speculation of a liftoff in US interest rates increases.
Inflation levels jump in November
Still, consumer prices in China increased in November by 1.5% on a YoY (year-over-year) basis, a rise from the previous month's figure of 1.3% and above forecasts of a 1.4% growth.
On a month-over-month basis, inflation in China was flat in November against expectations of a contraction of 0.1% and October's decline in prices of 0.3%. Meanwhile, the contraction in producer prices remained constant at 5.9% in November, meeting estimates.
Impact on the market
Related ETFs were trading on a negative trajectory on December 9. The iShares China Large-Cap ETF (FXI) fell by 1.1% while the Deutsche X-trackers Harvest CSI 300 China A-Shares ETF (ASHR) fell by only 0.53%.
Chinese ADRs (American depositary receipts) also ended on a mixed note. China Southern Airlines (ZNH) was trading lower, by 4.4%, whereas Sinopec Shanghai Petrochemical (SHI) ended higher, by 0.17%. Yanzhou Coal Mining (YZC) fell by 2.9%.
That's the latest goods—or bads—on the yuan. Now let's skip over to South Africa and check out the rand as of December 9.