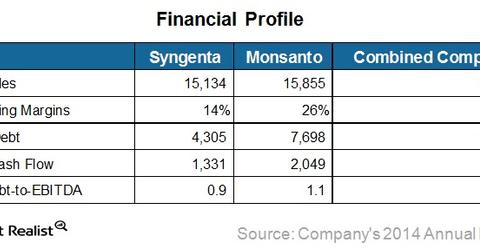 Will Monsanto Have a Healthy Balance Sheet after the Acquisition?
By Steve Ariel

Updated
Financial leverage to rise after the deal
Monsanto (MON) had a net debt of $5.3 billion and EBITDA[1. Earnings before interest, tax, depreciation, and amortization]) of $4.8 billion in 2014. Monsanto's net debt-to-EBITDA ratio was 1.1x in 2014, with a strong investment-grade credit rating. On the other hand, Syngenta (SYT) is relatively better placed than Monsanto in terms of financial leverage as SYT's net debt-to-EBITDA ratio was 0.9x, with a net debt of $2.7 billion and an EBITDA of $2.9 billion in 2014.
Article continues below advertisement
However, Monsanto is expected to finance the deal through cash and stock. Monsanto has to raise significant debt to pay the cash amount of the deal to Syngenta as the company had total cash of only $2.4 billion in 2014. If Monsanto goes for a 50:50 cash and stock deal, it will have to raise around $20 billion for the deal. As a result, its net debt-to-EBITDA ratio would significantly go up to 4.0x, with a net debt of around $28–$30 billion. Overall, the deal would significantly increase the leverage of Monsanto. However, the company may have to divest some of its businesses to get approval from antitrust authorities. That may lead to cash inflow and lower leverage.
Monsanto's free cash flow to strengthen
Monsanto reported an operating cash flow (or OCF) of $3.1 billion and a total capital expenditure of $1.0 billion in 2014. With a higher OCF, MON's free cash flow was $2.0 billion. On the other hand, Syngenta reported a free cash flow of $1.3 billion with a capital expenditure of $600 million in 2014.
After the acquisition, Monsanto would have a total free cash flow of $3.4 billion in 2014. The free cash flow of Monsanto is expected to rise as the significant cost synergy will reduce the operating cost as well as research and development expenses. As a result, the company would report higher profits that would lead to a rise in free cash flow. The higher free cash flow would help Monsanto reduce its debt level in the future.
Overall, Monsanto's leverage is expected to rise after the acquisition. However, the company may not face a cash crunch as it's expected to report a higher free cash flow in future. The successful integration of the two companies will be the key to future operating and financial performance.
Investors can consider the iShares US Basic Materials ETF (IYM) for exposure to the US chemical industry. IYM invests in most of the US chemical companies. Monsanto forms 7.7% of IYM's total holdings. Also, Dow Chemical (DOW) and DuPont (DD) are the two largest holders in IYM's total holdings.