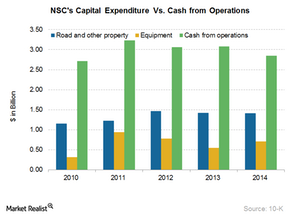 Norfolk Southern's Capital Investments Boosted Intermodal Growth
By Samuel Prince

Jan. 8 2016, Updated 6:04 p.m. ET
Intermodal infrastructure
In the recent past, Norfolk Southern Corporation (NSC) has focused on increasing its intermodal volumes and revenues. It anticipates an investment of $240 million in facilities and terminals, which include terminals and equipment to enhance capacity to its intermodal network, including corridors.
The company expects to spend $100 million on infrastructure improvement to increase its mainline capacity and committed share in the Crescent corridor and the CREATE (Chicago Region Environment and Transportation Efficiency) project. The proposed capital expenditure should boost the intermodal revenues that have a sizeable share in cash from operations.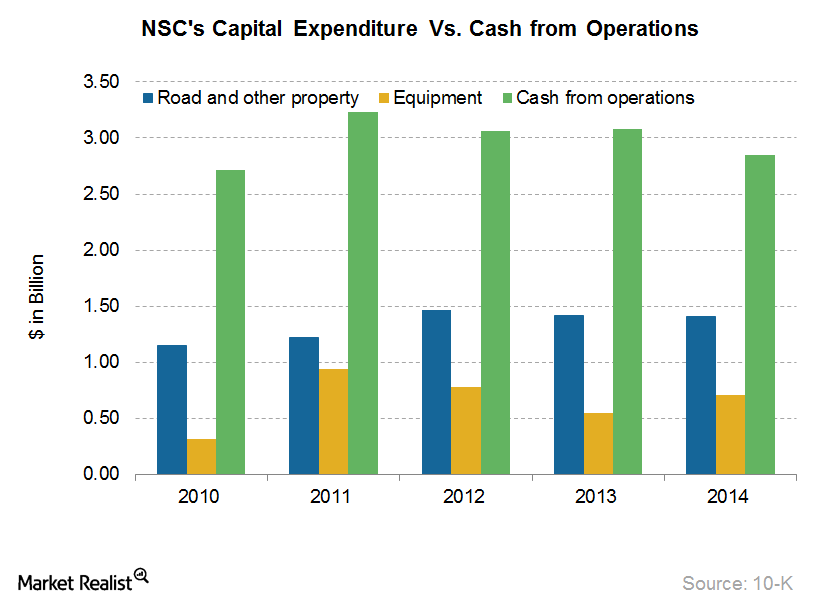 Article continues below advertisement
NSC's investment in road and other property grew gradually from 2010 to 2012. In 2014, the investment in equipment fell by 24% from its 2011 levels. Cash flows from operations have decreased marginally since 2011. The investment will be mostly funded by cash flows from operations. Property additions were 74% of the total cash flows from operations in 2014.
Composition of capital investments
Norfolk Southern (NSC) expects $2.4 billion capital investments in 2015. This translates into a 13% increase over the previous year's spending, which would be used in rail replacements, ballast, ties, and modernizing bridges. The company has planned $640 million in equipment spending, and it is expected to invest $852 million for locomotives and tracks.
NSC plans to invest in the Moorman Yard in Bellevue, the 51st Street Yard in Chicago, the Indiana Connection track, containers, and freight cars. It expects its investments related to Positive Train Control (or PTC) to touch $800 million after 2015, 50% of which is related to property purchase.
Among NSC's peers, CSX is expected to make $2.5 billion in capital investments in 2015, KSU is expected to spend ~$720 million, UNP should invest $4.2 billion, CP is expected to incur $1.5 billion Canadian, and CNI's target is $2.7 billion Canadian. All these companies, including NSC, form 7.78% of the Industrial Select Sector SPDR ETF (XLI).