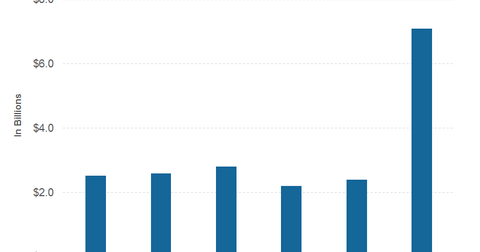 Getting Cozy—or Concerned—with ArcelorMittal's Leverage Ratios
By Mohit Oberoi, CFA

Updated
ArcelorMittal's leverage ratios
Previously in this series, we discussed how vertical integration has negatively impacted ArcelorMittal SA (MT). In this part of the series, we'll look at the ArcelorMittal's leverage ratios.
As of the end of 3Q15, ArcelorMittal had a net debt-to-EBITDA (earnings before interest, taxes, depreciation, and amortization) of 3.09, a ratio that's not too high, when we consider the comps in this space. By comparison, U.S. Steel Corporation (X) and AK Steel Holding (AKS) have higher net debt-to-EBITDA multiples. Notably, Nucor Corporation (NUE) is the only North American steel company to carry an investment grade (BND) credit rating.
Article continues below advertisement
Major upcoming maturities
But this is not only part of ArcelorMittal story. The company has major upcoming debt maturities, as the graph above shows, with scheduled obligations exceeding $2.5 billion each in 2016 and 2017. The company could face refinancing risks in rolling the debt over.
New debt for ArcelorMittal could come at higher interest rates on account of two reasons. Firstly, interest rates could go up if the US Federal Reserve hikes rates in December. The one-month LIBOR (London Interbank Offered Rate) has already inched up by ~50 basis points in the past month, possibly in anticipation of a Fed rate hike later this month. Secondly, the company just experienced a credit rating downgrade.
Credit rating downgrades
In November 2015, Moody's cut ArcelorMittal's credit rating was by one notch, and this could impact the company's borrowing capacity in the near future. What's worse, interest rates on ArcelorMittal's existing debt could also rise with the rating downgrade, because several of ArcelorMittal's debt liabilities have a "step-up" clause that can trigger an increase in interest rates in case of a rating downgrade.
ArcelorMittal has, in fact, faced a couple of rating downgrades over the past two years. The company estimates that these rating downgrades have led to higher interest outflows, as well—$98 million in 2014 and $87 million in 2013.
Although the additional outflow is not much when we consider at ArcelorMittal's sizable operations, it still represents additional cash outflow. ArcelorMittal has even suspended its annual dividend program in an effort to conserve cash.
In the next and final part of this series, we'll look at ArcelorMittal's outlook.