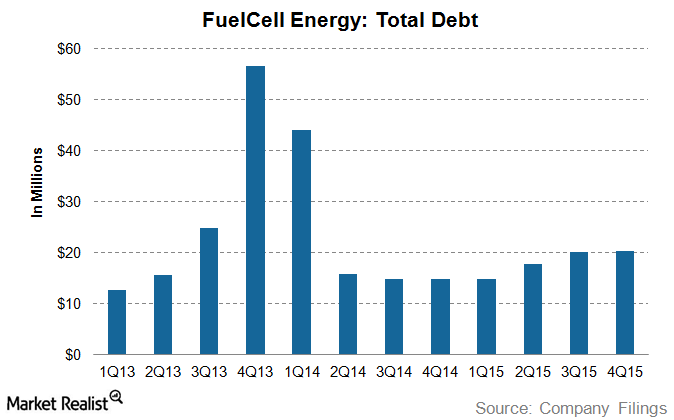 FuelCell Energy Relies Heavily on Strategic Partners for Funding
By Vineet Kulkarni

Dec. 17 2015, Published 4:48 p.m. ET
Debt profile
FuelCell Energy (FCEL) relies heavily on its strategic partners for its financing needs through revolving credit facilities. However, management expects to reduce the company's dependence on these partners as cash flow from operations and sales volumes rise.
FuelCell Energy's total debt as of October 31, 2015, stands at $20.4 million. It has a debt-to-equity ratio of 1.29x, while its debt-to-capitalization ratio is 0.83x.
Article continues below advertisement
Interest expenses at FuelCell continue to increase operation costs. Operation costs rose from $0.7 million to $0.8 million this quarter. The elongated debt bars in the above chart depict the company's unsecured convertible debt issued at 8% in fiscal 4Q13 and fiscal 4Q14. Interest expenses are expected to fall on an annual basis due to reduced debt levels.
Liquidity
FuelCell's liquidity position deteriorated this quarter as cash and cash equivalents amounted to $58.9 million, compared to $83.7 million in fiscal 4Q14. Cash and borrowing availability from FCEL's strategic partners totaled $123 million. This includes a cash balance of $9.6 million from POSCO (PKX) advanced under a raw material procurement agreement. It also includes $36.2 million in revolving credit facility from NRG Energy (NRG).
Also, the State of Connecticut has issued $10 million in funding for the capacity expansion of FuelCell at a 2% interest rate for a period of four years.
FuelCell Energy's total debt rose by 40% on year-over-year basis. Similarly, the debt of alternative energy (PBW) technology company Plug Power (PLUG) rose by 60% in 3Q15. EnerSys's (ENS) debt grew by 60% in the same period.