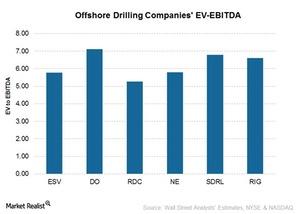 Transocean: Wall Street Recommendations and Valuation
By Sue Goodridge

Updated
Why EV-EBITDA?
Offshore drilling (XLE) (IYE) companies are best valued and compared using EV-to-EBITDA (enterprise value to earnings before interest, taxes, depreciation, and amortization) ratio. A company's forward EV-to-EBITDA ratio reflects what investors are willing to pay for the next four quarters of estimated EBITDA.
For the offshore drilling industry, we believe that EV-to-EBITDA reflects the perceived riskiness of investing in offshore drilling companies as well as investors' expectations for the industry's outlook.
Article continues below advertisement
Transocean's EV-to-EBITDA multiple
Transocean (RIG) is currently trading at an EV-to-EBITDA multiple of 6.6x compared to its last two-year average of 6.48x. Transocean's multiple in the last two years reached a high of 8.62x in October 2015 and a low of 5.10x in December 2014.
Comparing multiples with peers
Transocean's current valuation multiple as of November 11, 2015, is 6.6. This is higher than Ensco's (ESV) EV-to-EBITDA at 5.77, Noble's (NE) at 5.79, and Rowan Companies' (RDC) at 5.27.
Diamond Offshore (DO), Pacific Drilling (PACD), and Seadrill (SDRL) are trading at EV-to-EBITDA of 7.12, 6.68, and 6.78, respectively.
Transocean is not a very heavily leveraged company. It also has a decent backlog compared to its peers. The company doesn't face any immediate liquidity concerns. The concerns the company is currently facing are debt maturities in 2017 and 2018 and a heavy cash requirement for capital expenditure for its newbuilds in the pipeline beyond 2017.
According to the proxy reports, in the past six months, shares held by company insiders have fallen. This may give a negative signal that insiders have a bleak outlook about the company as well as the industry.
Wall Street analysts' target price
Wall Street analysts have a 12-month price target of $11.63 for Transocean compared to the current price of $14.53 on November 11, 2015. A total of 38 analysts gave recommendations on the stock. Only 3% of analysts recommended a "buy," 39% recommended a "hold," and 58% recommended a "sell," according to the Bloomberg consensus.