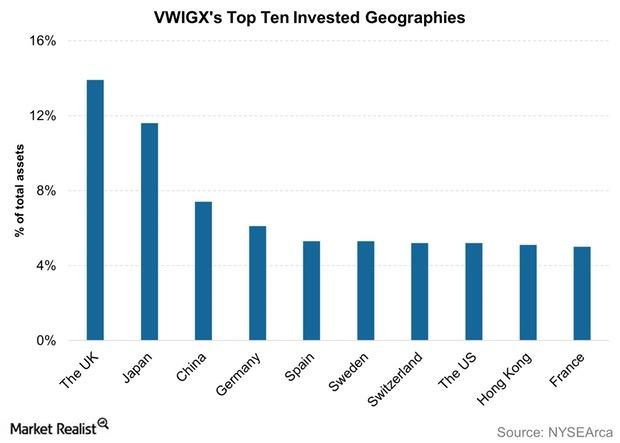 The Vanguard International Growth Fund – Investor Shares (VWIGX)
By David Ashworth

Nov. 17 2015, Published 4:50 p.m. ET
The Vanguard International Growth Fund
The Vanguard International Growth Fund – Investor Shares (VWIGX) aims to grow capital by investing "predominantly in the stocks of companies located outside the United States and is expected to diversify its assets in countries across developed and emerging markets."
VWIGX was launched in September 1981. As of the end of October 2015, its managed assets totaled $21.91 billion. As of the end of October 2015, the fund had 166 holdings in its portfolio.
Article continues below advertisement
Sectoral and geographic breakdown
If you are invested in VWIGX, 24.0% of your money is invested into financials, according to the latest available sectoral breakdown. Stocks from the consumer discretionary sector form 21.8% of the fund's assets, followed by information technology stocks, which form 16.8% of the portfolio. Industrials and healthcare, in that order, complete the top five sectors invested in by the fund. VWIGX has completely avoided the utilities sector.
As of October 2015, the geographic exposure shows that 13.9% of the funds are invested in stocks from the United Kingdom. Stocks from Japan make up 11.6% of the fund's assets, followed by China with 7.4% of the portfolio. Germany and Spain round out the top five, making up 6.1% and 5.3% of the total assets, respectively.
According to the fund's September 2015 portfolio, China's Tencent Holdings Limited (TCEHY) is the fund's largest holding, making up 3.4% of the fund's assets. Among US stocks, Amazon.com (AMZN) has the largest exposure with 2.8% of the fund's assets. Fiat Chrysler Automobiles N.V. (FCAM), Alibaba Group Holding Limited (BABA), Rolls Royce Holdings plc (RYCEY), and ARM Holdings plc (ARMH) are major holdings of this fund.
Fees and minimums
The Vanguard International Growth Fund – Investor Shares (VWIGX) requires a minimum initial investment of $3,000. If investors wish to add to their accounts, they must do so in multiples of $1. The VWIGX is a no-load fund, and there is no sales charge levied while purchasing or any charge while redeeming. The expense ratio of the Investor Class of the fund is 0.47%.
In the final article of this series, let's look at the baseline conclusion from this series.