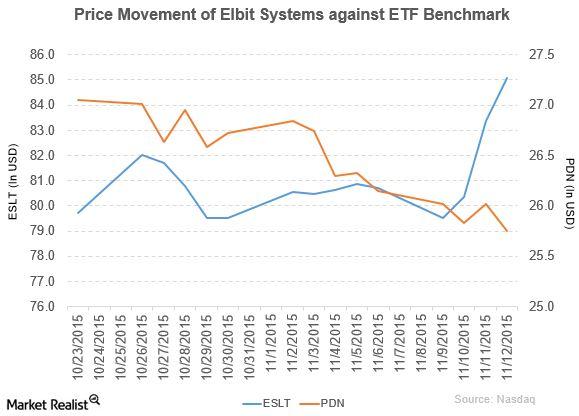 What Drove Elbit Systems' Strong Quarterly Results in 3Q15?
Elbit Systems' price movement
Elbit Systems (ESLT) has a market cap of $3.7 billion. After it released its 3Q15 earnings report, ESLT rose by 2.0% to close at $85.07 per share as of November 12, 2015. The price movement on weekly, monthly, and YTD (year-to-date) basis is 5.2%, 12.1%, and 42.1%, respectively.
Elbit's stock sometimes broke the support of the 20-day and 50-day moving averages in 2015. Currently, it's trading at 6.7% above the 20-day moving average, 9.6% above the 50-day moving average, and 13.1% above the 200-day moving average.
Article continues below advertisement
The PowerShares FTSE RAFI Developed Markets ex-US Small-Mid Portfolio ETF (PDN) invests 0.10% of its holdings in Elbit. The ETF tracks a fundamentally weighted index of small-cap and mid-cap developed-market securities outside the United States. The YTD price movement of the ETF is 0.26% as of November 11, 2015.
The competitors of Elbit (ESLT) and their market caps are:
How did Elbit perform in 3Q15?
The company reported revenue of $764.8 million in 3Q15, a rise of 5.8% when compared to the revenue of $722.7 million in 3Q14. Revenue from Airborne systems, C4ISR systems, and Electro-Optics systems fell by 5.8%, 20.0%, and 4.0%, respectively, in 3Q15 as compared to revenue in 3Q14. Revenue from Land systems rose to $169.9 million in 3Q15 as compared to $38.1 million in 3Q14. The cost of revenue as a percentage of revenue fell by 1.4% in 3Q15 as compared to the same in 3Q14.
Article continues below advertisement
Operating income rose by 8.6% in 3Q15 as compared to the same in 3Q14. Net income and EPS (earnings per share) rose to $50.6 million and $1.16 per share, respectively, in 3Q15, respective rises of 33.9% and 41.5% as compared to net income of $37.8 million and EPS at $0.82 per share in 3Q14. Revenue and net income rose by 2.0% and 7.6%, respectively, in 3Q15 on a quarterly basis.
Meanwhile, cash and cash equivalents rose by 11.8%, and inventories fell by 0.63% in 3Q15 on a quarterly basis.
Acquisition and contracts
The company completed its acquisition of the Cyber and Intelligence division of NICE Systems.
It was awarded the following contracts in 3Q15:
supplying advanced systems for infantry in the Benelux countries—Belgium, the Netherlands, and Luxembourg—valued at ~$150 million, the contract being from the Dutch Ministry of Defense
supplying command and control systems and ATMOS long-range artillery systems, valued at ~$27 million, to an Asia-Pacific country
supplying leasing and maintenance services for the Israeli Police Force's aircraft, valued at ~$115 million
supplying military communications systems, valued at ~$45 million, to a European country
supplying an Unmanned Aircraft System (or UAS), based on a cutting-edge intelligence solution, valued at ~$78 million
supplying intelligence integrated systems, valued at ~$70 million, to a customer in the Latin American region
 About Elbit Systems
Elbit Systems develops and supplies a portfolio of airborne, land, and naval systems and products for defense, homeland security, and commercial applications.