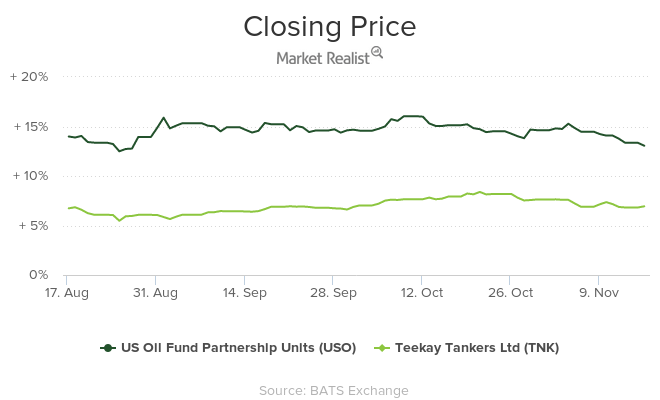 Crude Oil Prices Rose Due to Geographical Tensions
Crude oil prices rose 
The US benchmark WTI (West Texas Intermediate) crude oil futures contracts for December delivery rose by 2.5% and settled at $41.74 per barrel on November 16, 2015. Prices rose for the first time in last four days due to speculation of supply disruptions. The disruptions were due to geopolitical tensions rising from the terror attacks in Paris. ETFs like the United States Oil ETF (USO) and the ProShares Ultra DJ-UBS Crude Oil ETF (UCO) rose in line with the direction of crude oil prices. They rose by 2.5% and 5.4%, respectively, at the close of trade on November 16, 2015.
[marketrealist-chart id=820437]
Article continues below advertisement
Terror attack in Paris
On November 13, 2015, a series of bomb explosions and shootings took place in Paris. The next day, the world's richest terrorist organization ISIS ( Islamic State of Iraq and Syria) claimed responsibility for the attack. Around 129 people were killed and nearly 433 people were hospitalized due to the attack. As a result, France started an air strike on Syria on Monday, November 16, 2015. ISIS is based in Syria. The country supplies 25,000 bpd (barrels per day) of crude oil. The geopolitical tensions could halt the supplies and impact crude oil prices. Air strikes could also target oil and gas pipelines. As a result, crude oil prices rose during Monday's trade. The rise seems to be driven by sentiment despite the heavily oversupplied crude oil market. On the other hand, security concerns will impact travel in Europe. It could marginally impact oil consumption in Europe as well.
Land and sea stocks 
The API (American Petroleum Institute) will release its weekly US commercial crude oil inventory report on November 17, 2015. Last week, US crude oil stocks rose by 6.3 MMbbls (million barrels) for the week ending November 6, 2015. Record in land oil stocks in the US, the Middle East, and China will weigh on crude oil prices. Likewise, record oil stocks at sea will also weigh on oil prices. There are more than 100 MMbbls of oil at sea. Iran also has around 40 MMbbls of oil at sea. It's waiting for western sanctions to ease. The contango market helps oil tankers store oil at sea on speculation of rising crude oil prices in the future. It benefits oil stocks like Teekay Tankers (TNK), Nordic American Tanker (NAT), and Frontline (FRO). To learn more about the inventory visit the next part of the series.
On Friday, November 13, 2015, the IEA (International Energy Agency) reported that crude oil and refined products stocks averaged around 3 billion barrels worldwide. Lower oil prices are driving oil majors like Chevron (CVX) and Total (TOT) to cut back on production in 2017.
US CFTC  
The US CFTC (Commodity Futures Trading Commission) released it weekly COT (Commitment of Traders) report on November 16, 2015. The data highlighted that hedge funds increased their bearish position by 21% for the week ending November 10, 2015—compared to the previous week. In contrast, bullish positions fell by 16% over the same period. The fund flow suggests that crude oil prices have more pain in the market.
The volatility in the energy market impacts ETFs like the iShares US Oil Equipment & Services ETF (IEZ) and the PowerShares DWA Energy Momentum ETF (PXI).
In this series, we'll look at crude oil prices and fundamentals. For an in-depth fundamental look at oil and gas and related companies, sectors, and drivers, visit Market Realist's Energy and Power page.