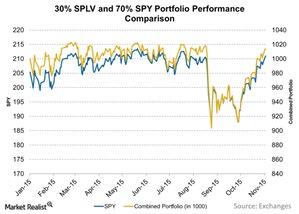 A Comparative Analysis of SPLV's Portfolio with the Market
By Ivan Kading

Nov. 11 2015, Updated 8:08 a.m. ET
SPLV's low volatility
The PowerShares S&P 500 Low Volatility ETF (SPLV), a smart beta fund, seeks to replicate the performance results of the S&P 500 Low Volatility Index. SPLV's top five holdings are Plum Creek Timber (PCL), Paychex (PAYX), PepsiCo (PEP), ACE (ACE), and Republic Services (RSG).
The ETF's portfolio is created on the basis of volatility. The fund's main objective is to benefit from low volatility in order to reduce the market's downside risk while still being able to track its upside potential. A comparison of the performance of SPLV and SPY's combined portfolio with the market is shown in the above graph.
Article continues below advertisement
Reduced risk, reduced performance
As observed from the graph, SPY and the combined 30% SPLV and 70% SPY portfolio performed similarly in the market during the first three-quarters of the year. A short-term gain higher than that of the market was possible by investing in the combined portfolio during the first three-quarters, as can be observed in the graph.
Due to the poor performance of SPLV in the third and fourth quarters, the portfolio fell significantly compared to SPY, but also recovered more quickly.
Conclusion
Though SPLV's performance for the current year is not as good as compared to the previous year, its inclusion in your investment portfolio may be something you wish to consider should you seek to benefit from low volatility while reducing your risk.