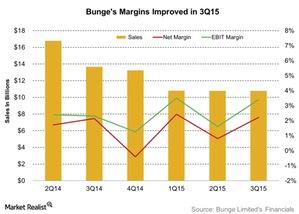 Bunge Reported Strong Margins in a Challenging Environment
By Sushree Mohanty

Updated
3Q15 performance highlights
Bunge (BG) operates in five segments: Agribusiness, Edible Oil Products, Milling Products, Sugar and Bioenergy, and Fertilizer. Bunge's 3Q15 revenue fell to $10.8 billion from $13.7 billion in 3Q14, below analysts' estimates of $12.7 billion. Net earnings in the third quarter dropped to $229 million, or $1.56 per share, from $284 million, or $1.90 per share, in 3Q14.
Total third quarter segment EBIT (earnings before income and tax) was $414 million versus $316 million in the corresponding quarter last year. The adjusted EBIT was $367 million versus income in the prior year of $316 million, driven by the company's performance in agribusiness. On a year-to-date basis, adjusted EBIT is up 10% to $892 million. Gross margins were strong. Local farmer selling and a strong export pull extended the Brazilian agribusiness season, thus benefiting the agribusiness segment.
The company's trailing-fourth-quarter return on invested capital (or ROIC) adjusted for certain gains and charges overall is 8.3%, which is 1.3% above its cost of capital. For its core agribusiness and foods businesses, returns were 10.3%.
Article continues below advertisement
Factors that impacted 3Q15 performance
The increase in ROIC reflects both an increase in earnings and a reduction in asset levels. A gain of $47 million on the sale of certain Canadian grain assets to G3 Global Grain Group contributed to the increase in this quarter's EBIT. Farmer retention in the northern hemisphere and spot buying by customers has pressured margins in some places.
It reflects in the soft seed segment in Canada and in Europe, where margins are down to 40% from 50% in 2014. The operating environment for food and ingredients in Brazil continues to be extremely weak. Reduced consumer demand, inventory reduction across the value chain, and the domestic oil surplus has pushed edible oil gross margins down to 35% from 40% and volumes down by about 10% when compared to last year.
Peer performance
Bunge's peers in the agribusiness industry are Syngenta (SYT), Ingredion (INGR), and B&G Foods (BGS). They had a profit margin of 3.4%, 7.4%, and 9.7% in the last quarter, respectively. The Flex Shares Morningstar Global Upstream Natural Resources (GUNR) invests 1.4% of its portfolio in BG, and the PowerShares DWA Consumer Staples Momentum Portfolio (PSL) invests 1.7% of its portfolio in INGR stock.