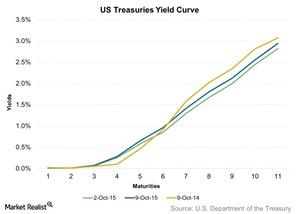 How Treasury Yields Have Risen as Demands for Safe-Havens Decline
By Lynn Noah

Oct. 12 2015, Updated 12:45 p.m. ET
Secondary market
US Treasury yields rose across the yield curve for the week ending October 9, 2015, as demand for safe-havens declined due to investors' inclinations toward riskier assets like stocks, in addition to the pick-up in oil prices. The FOMC's (Federal Open Market Committee) minutes for its September 16–17 policy meeting suggested that a rate hike would be more appropriate in 2016, after reaching the inflation target of 2% and after further improvements in the US labor market.
Week-over-week yields rose approximately one basis point to 13 basis points. The yield on the benchmark ten-year Treasury note rose by 13 basis points during the same period, ending at 2.12%.
Article continues below advertisement
FOMC minutes release
The FOMC released its minutes for the September 16–17 policy meeting on October 8, 2015. Below are excerpts quoted verbatim from the minutes:
In determining how long to maintain current 0 to 0.25% target range, the Committee will assess progress—both realized and expected—toward its objectives of maximum employment and 2% inflation.
This assessment will take into account a wide range of information, including measures of labor market conditions, indicators of inflation pressures and inflation expectations, and readings on financial and international developments.
The Committee anticipates that it will be appropriate to raise the target range for the federal funds rate when it has seen some further improvement in the labor market and is reasonably confident that inflation will move back to its 2% objective over the medium term.
But, aside from FOMC's report, hiring remains weak due to sluggish economic outlook. With a lackluster growth environment, industrial companies like Caterpillar (CAT), 3M Company (MMM), Deere & Company (DE), and Illinois Tool Works (ITW) seem to be more cautious about new hiring.
However, Federal Reserve officials like Dennis Lockhart and William Dudley are of the opinion that the possibility of rate hike in 2015 is still open, depending on developments in the US economy and how the global events pan out over the remainder of the year.
Investment impact
Due to a rise in US Treasury yields, week-over-week returns on related mutual funds fell. Mutual funds like the Vanguard GNMA Investor Shares (VFIIX) and the PIMCO GNMA Class Fund A (PAGNX) provide exposure to US Treasury securities. The weekly returns of VFIIX and PAGNX came in at -0.44% and -0.22%, respectively.
In the next part—and throughout the rest of this must-read series—we'll analyze the Treasury auctions that took place in the primary market during the week ending October 9, 2015.