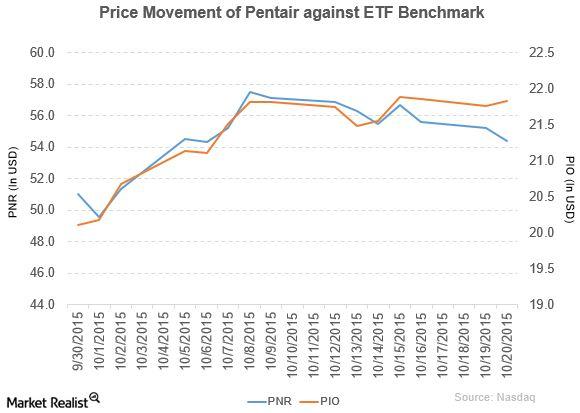 Pentair's Revenue and Income Fell in 3Q15
Pentair's price movement
Pentair (PNR) has a market capitalization of $9.8 billion. Pentair's YTD (year-to-date) price movement is falling from August 2015.
After its 3Q15 earnings report, Pentair fell by 1.5% to close at $54.38 per share as of October 20, 2015, following a decrease in sales and income of 6.6% and 22.1%, respectively, in 3Q15. Its price movements on a weekly, monthly, and YTD basis are -3.4%, 7.8%, and -16.9%, respectively.
Technically, Pentair has broken major support throughout 2015. Currently, it's trading at 1.3% above its 20-day moving average, -1.5% below its 50-day moving average, and -11.2% below its 200-day moving average.
Article continues below advertisement
The PowerShares Global Water Portfolio ETF (PIO) invests 8.3% of its holdings in Pentair. The ETF tracks a modified liquidity-weighted index of global companies that create products to conserve and purify water for homes, businesses, and industries. The YTD price movement of the ETF is -3.9% as of October 19, 2015.
Pentair's competitors and their market capitalizations are as follows:
Pentair's performance in 3Q15
Pentair reported net sales of $1,552.1 million in 3Q15, a fall of 6.6% when compared to net sales of $1,661.2 million in 2Q15. Revenues from valves and controls, flow and filtration solutions, and water quality systems fell by 11.2%, 3.2%, and 16.9%, respectively, and revenue from technical solutions rose by 6.2% in 3Q15.
The company's net income and EPS (earnings per share) fell to $115.2 million and $0.63 per share in 3Q15. These were falls of 22.1% and 22.2%, respectively, on a quarterly basis. The company's inventories rose by 8.0% in 3Q15. Its debt-to-equity ratio rose to 1.79 in 3Q15 as compared to a debt-to-equity ratio of 1.32 in 2Q15.
On September 21, 2015, the company announced a regular quarterly cash dividend of $0.32 per share on Pentair common stock.
On September 21, 2015, Pentair completed the acquisition of ERICO, a global manufacturer and marketer of engineered electrical and fastening products for electrical, mechanical, and civil applications.
About Pentair
Pentair provides products, services, and solutions to its water and other fluids, thermal management, and equipment protection customers.