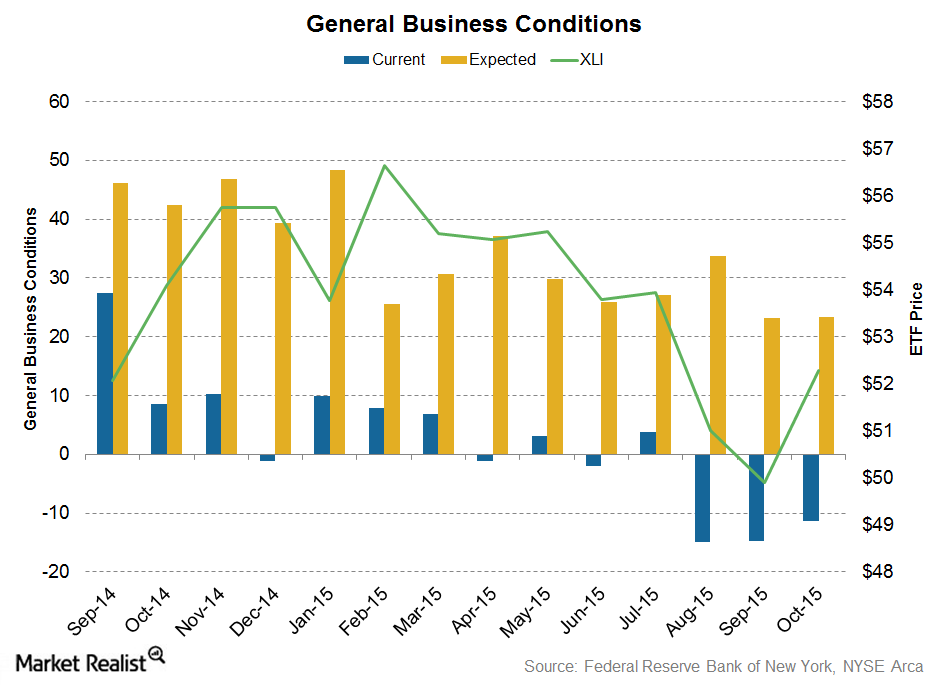 October Data Shows Business Conditions Remain Weak
Data on business condition fall in October
According to the Empire State Manufacturing Survey released by the New York Federal Reserve, business activity fell to 11.36 points in October, compared to -14.67 points in September 2015. Though it has edged up 3.31 points in October, the index has recorded a third consecutive month of falling points. A continuous fall in business activity for New York's manufacturers provides an early indication of weakening in manufacturing activity.
The Industrial Select Sector SPDR ETF (XLI) has fallen by 6.7% year-to-date, or YTD, as of October 15. General Electric (GE), Boeing (BA), 3M (MMM), and Honeywell International (HON) rose by 12.9%, 11.5%, 8.6%, and 9.4%, respectively, over the past year as of October 15.
Article continues below advertisement
A steep fall in new orders
The new orders index showed a steep fall to -18.9 points in October. Production may shift into lower gears, and job prospects may dampen with new orders trending lower. Unfilled orders and delivery time fell to 15.1 and 11.3 points, respectively, in October. With fewer orders, production capacity is not getting fully utilized. This might end up weakening the business confidence of manufacturers. While input prices have remained flat, labor condition worsened, as the index for the number of employees fell to -8.5 and the average workweek index remained negative at -7.6 points.
Future expectations remain subdued
Expectations about the market's condition in the future have remained muted in October, rising to 23.4 points from 23.2 in the prior month. Weakness in Empire State survey suggests that the margins of manufacturers are under pressure and that a sluggish growth outlook is further deteriorating the sentiment.
We'll take a closer look at the manufacturing business in the next article.