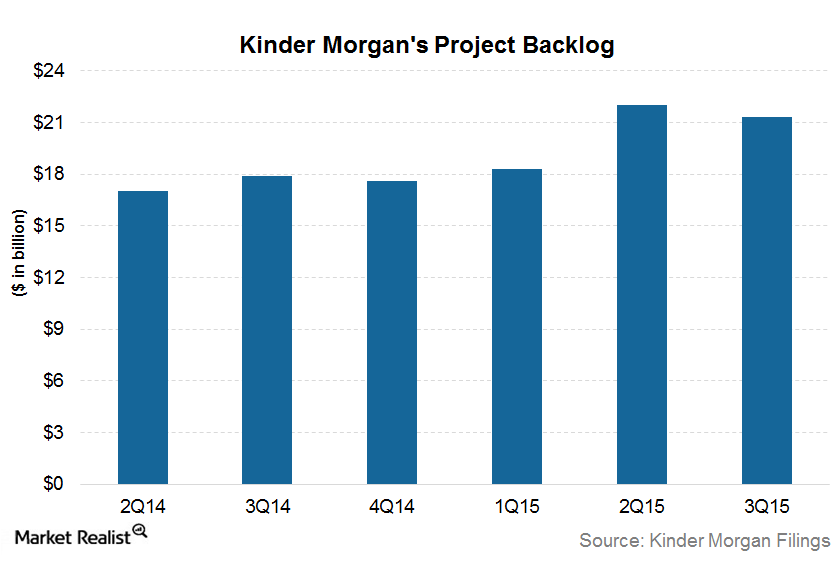 Why Kinder Morgan's Project Backlog Fell in 3Q15 versus 2Q15
By Kurt Gallon

Nov. 10 2015, Updated 12:04 a.m. ET
Kinder Morgan's project backlog
Kinder Morgan's (KMI) project backlog fell to $21.3 billion by the end of 3Q15 compared to $22 billion at the end of 2Q15, a quarter-over-quarter fall of $700 million.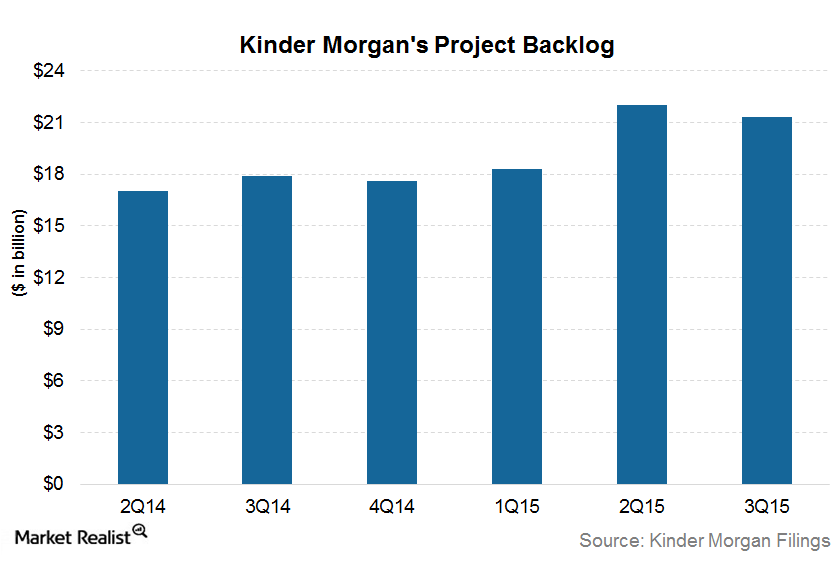 The project backlog fell as a net effect of the following:
Placement of $400 million worth of completed projects into service, the largest being the second splitter in the Houston Ship Channel.
Addition of $700 million worth of new projects, mostly in Kinder Morgan's Terminal segment.
Removal of $1 billion worth of projects from the backlog, primarily in the CO2 segment due to its significant crude oil exposure.
Next, we'll look into the updates on Kinder Morgan's major organic projects.
Article continues below advertisement
Elba Liquefaction Project
Kinder Morgan had a setback on the Elba Liquefaction Project. According to the 3Q15 earnings press release, "the issuance of the Environmental Assessment for the Elba Liquefaction Project would occur on Feb. 5, 2016, and the final decision deadline for issuance of the FERC certificate would be on May 5, 2016. Timing for issuance of the FERC certificate is four to five months later than the company expected."
The Elba Liquefaction Project is expected to have LNG (liquefied natural gas) export capacity of ~2.5 million tons per year, which is equivalent to ~350,000 Mcf/d (thousand cubic feet per day) of natural gas.
Other midstream companies that have invested in LNG opportunities include Energy Transfer Equity (ETE), Cheniere Energy Partners (CQP), and Boardwalk Pipeline Partners (BWP). Kinder Morgan forms 4.6% of the iShares Global Infrastructure ETF (IGF).
Trans Mountain Expansion Project
The approval from the NEB (National Energy Board) for the Trans Mountain Expansion Project was delayed by four months from the previous schedule. The expected in-service dates are now between year-end 2018 and October 2019.
According to the company's press release, "Kinder Morgan Canada received approval of the commercial terms related to the expansion from the NEB in May of 2013. The proposed $5.4 billion expansion will increase capacity on Trans Mountain from approximately 300,000 to 890,000 bpd." One bpd is equivalent to one barrel per day.
The delays in some of Kinder Morgan's major organic projects may further impact its dividend growth guidance.