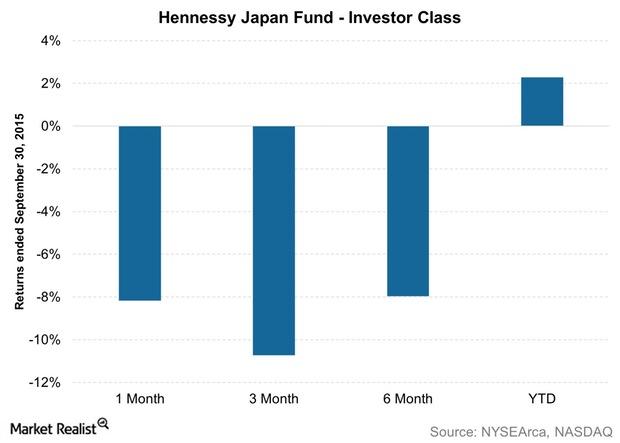 How the Hennessy Japan Fund Investor Class Fared in September 2015
By David Ashworth

Nov. 20 2020, Updated 4:57 p.m. ET
Performance evaluation
The Hennessy Japan Fund Investor Class (HJPNX) dived by 8.2% in September 2015 from the previous month. In the three- and six-month periods ending September 30, the fund fell by 10.7% and 8.0%, respectively. However, in the YTD (year-to-date) period, the fund was up by 2.3%.
This fund was the worst performer in September among the nine funds we're reviewing in this series. For other periods, though it was not the worst performer, it landed consistently at the bottom of the pack.
Let's look at what has contributed to this performance.
Article continues below advertisement
Portfolio composition and contributions to returns
HJPNX has been around since October 2003. Since the latest complete portfolio information available to us is as of June 2015, we'll consider these holdings as our base. For the months between June and September, we'll consider valuation changes for our analysis. All portfolio percentages mentioned from here on will refer to their weights according to any changes in valuation between June and September 2015.
The following is a breakdown of the fund's holdings:
The consumer discretionary sector is the biggest sectoral holding of HJPNX, making up 23.5% of the total portfolio.
Industrials follow, with a portfolio weight of 22.8%, followed by stocks from the health care sector, which make-up 12.9% of the fund's assets.
HJPNX has a sizable exposure to other funds, which make up 14.7% of the portfolio.
Now let's break down the fund's contributions in September 2015:
The industrials sector was the biggest negative contributor to returns in September. Among the eight stocks comprising the sector, Nidec Corporation (NJ) was the biggest negative contributor to returns. It was followed by Kubota Corporation, Misumi Group, and Mitsubishi Corporation (MSBHY).
The consumer discretionary sector followed industrials. Asics Corporation was the biggest underperformer among stock with holdings from this sector, whereas Shimano was the lone positive contributor to returns. However, the quantum of negative contributions from Asics and other stocks like Toyota Motor Corporation (TM) were much higher, leading to an overall sharp underperformance.
The financials sector was led down by Sumitomo Mitsui Financial Group (SMFG).
Reasons for performance
The turnover of this fund is low, indicating that fund managers have conviction in their picks. However, a concentrated portfolio hurt the performance of the fund, with all its top sectors and picks falling sharply. The complete portfolio as of September 2015 should provide interesting insights into the changes, if any, that portfolio managers have made.
In the next part of this series, we'll take a look at the Voya Japan TOPIX Index Portfolio Class A (IJIAX).