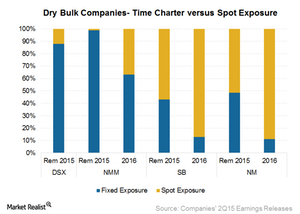 Understanding Spot versus Fixed Exposure Mix before Investing
By Anuradha Garg

Sep. 17 2015, Updated 8:47 a.m. ET
Spot charter contracts and time charter contracts
Dry bulk shipping companies usually work under two types of contracts: spot charter contracts and time charter contracts. Spot exposure measures the extent to which vessels are exposed to the spot market contract. Under time charter contracts, vessels are hired for a specific period, which can last up to seven or eight years at a predetermined daily rate, or they're pegged to the spot rates or an index.
In this article, we'll analyze which company uses which strategy and how it impacts performance.
The above chart shows the fixed versus spot exposures for dry bulk companies.
Article continues below advertisement
Low fixed-rate exposure
DryShips (DRYS) usually lets its fleet operate on spot rates as much as possible rather than enter into fixed-rate contracts. While this strategy works well in a rising rates environment, it can backfire in a weak market and lead to relative underperformance. DryShips' spot exposure for 2016 and 2017 is about 71%.
Safe Bulkers (SB) also has more spot exposure with just 43% of days covered by time-charter contracts for the remaining 2015 and 13% for 2016. Its management commented during the 2Q15 earnings call that when the opportunity arises, it can fix some short-term charters for six months to even a year to put some vessels on a steady path while others are working in the spot market.
The Guggenheim Shipping ETF (SEA) has 2% holdings in NM. Investors interested in a broader industry exposure should consider the SPDR S&P 500 Trust ETF (SPY).
High fixed-rate exposure
In contrast, Navios Maritime Partners (NMM) and Diana Shipping (DSX) have a chartering strategy to charter the bulk of their vessels for the long term, thus having high fixed-rate exposure. The average charter duration for NMM's entire fleet is 3.3 years.
A total of 99% of days in 2015 are covered by fixed revenues. The figure for DSX is 88% for 2015. Diana has recently started chartering vessels for a shorter duration, as it wants to maintain flexibility in terms of market timing. During the call, management also mentioned that the company tries to position its vessels to open at different times in the cycle.
It's worth noting that companies with high exposure to long-term contracts underperform in times of improving rates, since they're not able to take advantage of higher spot rates. In the next part of this series, we'll see which companies are more likely to be impacted by the rollover of time charter contracts.