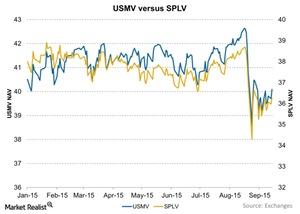 A Must-Read Comparative Analysis of SPLV and USMV
By Ivan Kading

Sep. 22 2015, Updated 5:16 a.m. ET
Smart beta ETFs
Smart beta funds are mutual funds or ETFs that seek to generate a higher return on the market by modifying the traditional index. They are also called alternative or advanced beta funds. Smart beta ETFs integrate active management traits in the passive management approach. The iShares MSCI USA Minimum Volatility ETF (USMV) and PowerShares S&P 500 Low Volatility Portfolio (SPLV) are two smart beta ETFs that have tweaked indexes based on volatility. They include only those stocks from the S&P 500 index (SPY) that have low volatility compared to other stocks.
Article continues below advertisement
USMV is the better performer
USMV's top holdings include AT&T (T), McDonald's (MCD), and AutoZone (AZO). USMV has given an annual return of 4.4%, while SPLV has given an annual return of 2.2%. USMV and SPLV have both fallen since January 1, 2015. USMV has experienced a more controlled change than SPLV, having fallen only 2.3% YTD compared to the SPLV's fall of 5.2%. SPLV's total annualized return since its inception on May 5, 2011, is 13.29%.
SPLV's holdings
Currently, SPLV was trading at $36.08 as of September 13, 2015. Its top holdings include Plum Creek Timber (PCL), Marsh & McLennan (MMC), and Verizon Communications (VZ). The top ten holdings represent 11.60% of SPLV's total portfolio. Both SPLV and USMV have 99% of their portfolio allocated in equities. On September 13, 2015, SPLV's trailing twelve month price-to-earnings ratio, or TTM PE, was 18.79%. Also, its price-to-book value ratio, or PBV, was 2.82.
In the concluding part of this series, we will see the importance of having minimum volatility stocks in a portfolio.