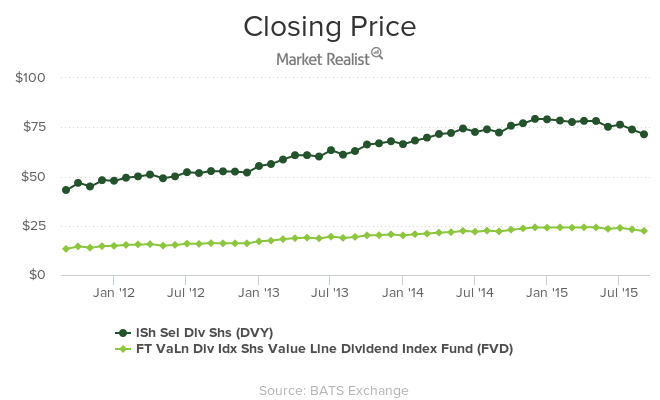 A Comparative Analysis of DVY
By Ivan Kading

Sep. 16 2015, Updated 5:21 p.m. ET
DVY is similar to FVD and QDF
The iShares Select Dividend ETF (DVY) is majorly invested in the utilities, financials, and consumer staples sectors. The utility industry almost represents 32.21% of DVY. The top ten holdings of DVY aggregate to 22.26% of its net assets. Lockheed Martin (LMT), Philip Morris (PM), and CME Group (CME) are DVY's top three holdings. DVY's direct smart beta peers are the First Trust Value Line Dividend Index Fund (FVD) and the FlexShares Quality Dividend Index Fund (QDF), both having stock selection processes based on the dividend payout history of stocks.
[marketrealist-chart id=634332]
Article continues below advertisement
Regular income-generating funds
The five-year total returns for DVY, FVD, and QDF are 13.5%, 13.4%, and 17.9%, respectively. FVD's Value Line Dividend Index selects stocks that pay above average dividends and show the potential of providing excellent capital appreciation. Similarly, QDF's Index, the Northern Trust Quality Dividend Index, primarily includes components that are high in quality and have a good dividend payout ratio.
Valuation multiples
The price-to-earnings ratio (or PE) of DVY, FVD, and QDF are 18.68, 19.92, and 17.50, respectively. The average PE of the smart beta subgroup is 24.36. Also, the price-to-book ratio (or PB) of DVY, FVD, and QDF are 2.02, 2.55 and 2.65, respectively, whereas the average PB of the group is 2.80. The average dividend yield for DVY, FVD, and QDF is 3.98%, 3.29%, and 3.94%, respectively. DVY valuation multiples are on the lower side when compared with its peers multiples and group averages.
In the next part of the series, we will analyze the holdings of DVY and their performance.